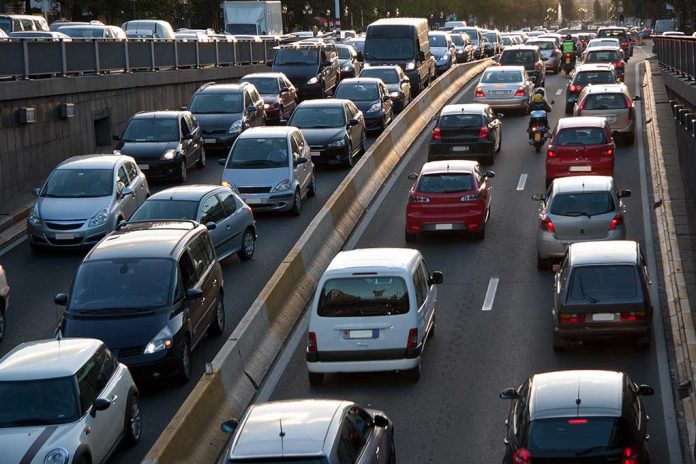 (DailyDig.com) – In the US, it's already expensive to own a vehicle with fees and registration being due nearly every year. Skyrocketing gas prices don't help much, either. Pretty soon, it'll be cheaper to buy a horse and feed it than it will be to own a car.
While that's certainly a joke at the moment, a return to the timeless horse and carriage might actually not be so far off — especially if the Biden administration passes their new $1.2 trillion infrastructure bill. It sneaks in language hinting at a possible vehicle-mileage-tax (VMT) that would force people to pay taxes on the amount of miles they drive.
National mile-driven tax pilot program tucked into $1.2 trillion infrastructure bill https://t.co/jSGkr5dWxp

— The Washington Times (@WashTimes) August 6, 2021
That's a particularly unfair charge for anyone living in the countryside.
The bill says the Department of Transportation must test the practicality of any such change. All passenger vehicles, including medium-heavy duty trucks, would be taxable under the VMT.
Nonetheless, top White House officials say the tax will violate Biden's $400,000 tax redline. It contradicts previous promises from the president that anyone making less than that amount per year wouldn't see an increase. Yet, Press Secretary Jen Psaki says President Biden fully supports the new infrastructure bill.
Is Joe Biden going against his word?
Or, did he fail to read his own 2,702-page bill?
Biden sought to create an infrastructure bill earlier this year, but found himself faced with the same pains as former President Trump: funding. After all, it wasn't in his plan to institute user fees. Instead, he had wanted corporations and the wealthy to foot the bill. Seems now it doesn't matter how he gets the funding — regardless of who gets hurt along the way.
Copyright 2021, DailyDig.com