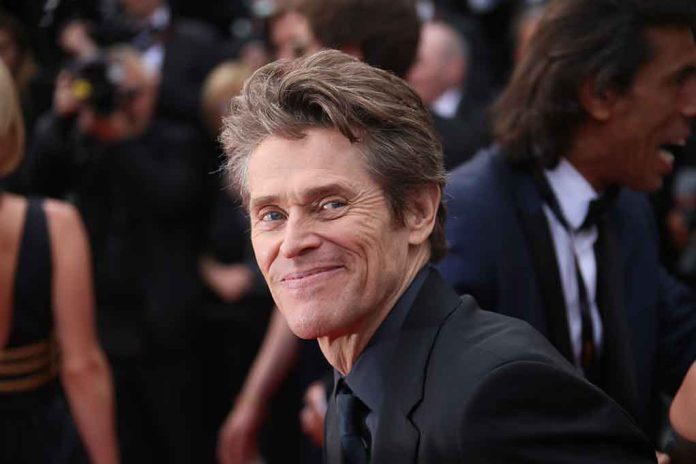 (DailyDig.com) – Because Willem Dafoe is adored by moviegoers, it's impossible to conceive that anybody would object to the fact that his new movie "Inside" stars only Willem Dafoe.
Dafoe's films, from "The Lighthouse" through "Nightmare Alley," have been consistently impressive in terms of both quality and originality, and "Inside" maintains this trend.
He portrays Nemo in the film, an art burglar who gets stuck in the empty penthouse of an NYC billionaire. As the days pass with little to eat and drink, he grows ever more desperate to make it. Despite having only one actor, Vasilis Katsoupis's thriller benefits greatly from Dafoe's typically brazen turn.
According to Dafoe, this new method of operation is more action-oriented. He is at ease in that situation. He is forced to discover an alternative method of expression after having a conventional scene dismissed.
An animated GIF showing Dafoe sitting in the backseat of a vehicle, the camera slowly closing in on him while he stares madly out the window, has been a long-running internet hit. Although it's among the more recognizable visuals of him, it's really from a lesser-known project: Anton Lanshakov's 2013 short film, "The Smile Man."
According to Dafoe, he developed this short video to enter a competition that awarded cash prizes to aspiring young filmmakers. Others have told him about these things on the internet, so he is aware of them. He tries not to go looking for them, but when others tell him about them, he can't help but investigate.
He credits his management and agency for helping him get such unique roles time and time again. He also spends a lot of time reading and challenging his own assumptions. He doesn't always follow the norm or follow the lead of his peers, preferring instead to do what seems right to him. He's always on the lookout for new sources of excitement. According to him, it's important to constantly challenge one's perspective. He tends to seize such opportunities when he comes across them.
Copyright 2023, DailyDig.com