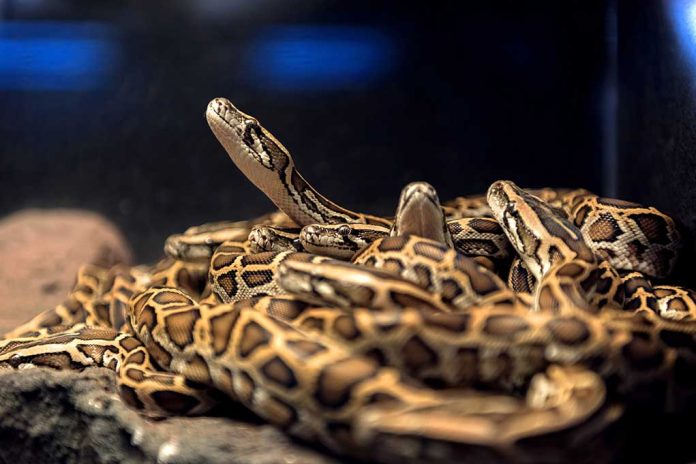 (DailyDig.com) – Last month, a lady was detained by customs agents at a border crossing in China. She was nabbed by Chinese customs officials as she attempted to sneak five live snakes into the country by concealing them in her bra. Officers at Futian Port Passenger Inspection were suspicious due to the unusual contours of her breast; upon having her remove her top, they located the snakes, which had been knotted in stockings and concealed under her bra.
Last Monday, July 8th, China Customs reported the shocking discovery on the agency's WeChat account. Agents discovered the snakes after scanning the suspicious-looking visitor.
The lady was apprehended as she sailed into Shenzhen, a significant sub-provincial municipality and a crossing point to Hong Kong. All the snakes turned out to be harmless corn snakes, a kind of snake that is endemic to the United States. They are not venomous. Corn snakes are highly sought-after on the international market but banned from entry into China.
The restriction was put in place not just because of the potential for germs or illnesses to be brought into the nation by non-native species, but also to prevent their unchecked spread into the surrounding countryside. Nevertheless, snakes have become in great demand as exotic pets because of their eye-catching hues and calm demeanor.
The findings of Pethadoop's 2021 study on the Chinese pet business, reptile collectors account for a share of 5.8% of the country's millions of pet owners. Any foreign animals entering China are required to be declared and then quarantined according to the country's customs procedures.
In addition, Shenzhen's position as a Special Economic Zone would have allowed for the sale of these items without approval from the Chinese government in Beijing. However, certain invasive species like the red fire ant, the apple snail, and the water hyacinth have been introduced by government officials.
Officials at the zoo have been given custody of the snakes.
Copyright 2023, DailyDig.com