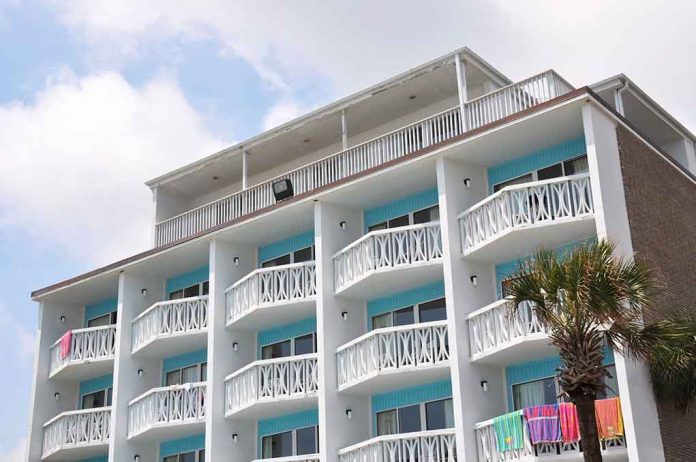 City Purchases $9M Hotel To Turn Into Homeless Shelter — Then This Happens
(DailyDig.com) – In Austin, Texas officials allowed the city to buy a hotel for $9 million. They had a grand idea to help some who are less fortunate. The plan was to turn the area into a homeless shelter, but the city now faces some setbacks before it can complete its vision. Vandals appear to be the root of the problem.
Hotel that city bought for $9M to turn into a homeless shelter torn apart by vandals: 'The entire hotel was stripped of copper.'https://t.co/VBjAE4XyAw

— Fox News (@FoxNews) May 13, 2022
Thieves broke into the Candlewood Suites hotel and stole whatever they could. Now, the city needs to repair it before continuing the necessary renovations it had drafted. According to local news station Fox 7, witness Mike Grecco claims people have repeatedly jumped the fence and entered the hotel through a side door, emerging with linen, TVs, and metal pipes.
Firefighters responded to an alarm going off in the hotel on May 5, and their report indicated people, who were inhabiting the property, fled the scene upon spotting authorities. The Candlewood Suites hotel resides in Williamson County, where Bill Gravell works as a judge. He had a pretty serious message for city board members.
Gravell blasted the city of Austin, which arranged to use the building as a homeless shelter for people above the age of 55 but then put the plans on hold, allowing others to break in and use it. The judge noted that he's particularly disappointed in their mayor, Steve Adler.
Austin's city council is supposed to be meeting with the nonprofit group Family Eldercare this week to begin discussing rehabilitating the building, according to Yahoo News, but the damage has created a massive setback. At this point, the project might even be a lost cause.
Copyright 2022, DailyDig.com