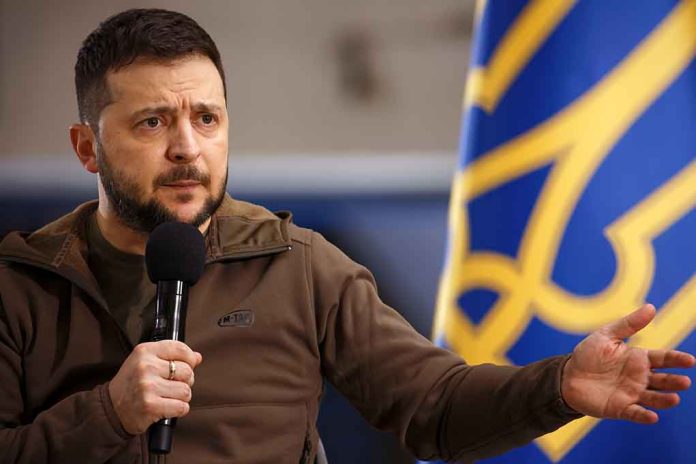 (DailyDig.com) – As Congress prepares to enact a budget with more than $45 billion in military and humanitarian aid for Ukraine, President Volodymyr Zelenskyy will visit Congress on Wednesday, Dec. 21.
The Biden administration official told reporters Tuesday night that Zelenskyy would visit the White House for an extensive discussion with Biden and discussions with the highest-ranking national security team and Cabinet officials.
The official reported Zelenskyy will also visit Capitol Hill where Congress will vote on a large spending plan that contains $44.9 billion in aid to Ukraine. The official said Zelenskyy will end the day with a joint session of Congress speech.
As Ukraine resists Russia's invasion, the president is scheduled to thank lawmakers. Zelenskyy will also argue that the fight is not over and that further support is required.
The Senate will debate President Biden's $1.7 trillion spending package this week. The measure provides Ukraine with about $45 billion in help.
Most Republicans in the House and Senate are anticipated to vote for the package.
"Providing assistance for Ukrainians to defeat the Russians is the No. 1 priority for the United States right now according to most Republicans," Mitch McConnell, Senate Minority Leader from Kentucky, said.
Several Republicans disagree. Some GOP members say the additional financing, which would push the U.S. war commitment beyond $110 billion, is wrong without stronger oversight and accountability.
Kevin McCarthy, the GOP leader in the House, said his party will not issue a 'blank check' for Ukraine.
Rep. Thomas Massie suggested a separate vote on further Ukraine financing is needed since the majority of the people he represents do not want their money transferred to Ukraine without control or an examination.
The official said Biden invited Zelenskyy last Wednesday to the White House after a week of discussing the visit. It was confirmed on Sunday that this is Zelenskyy's first known trip outside Ukraine since February's fighting began.
The administration source called the visit an important infusion of energy and support to U.S. and its partner's backing of Ukraine in the conflict with Russia.
Copyright 2022, DailyDig.com