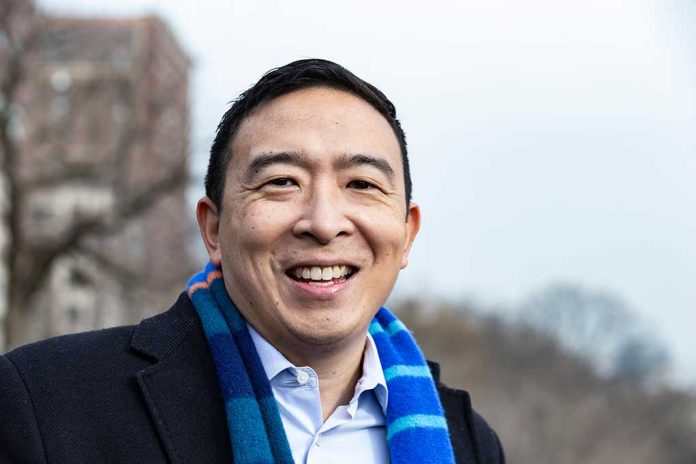 (DailyDig.com) – The polarization of Americans is more evident now than it has ever been for decades. That split takes its toll on both everyday citizens and politicians — including Andrew Yang. He recently responded to the ongoing infighting by making a shocking shift.
Andrew Yang quits Democratic Party, calls it 'the right thing' to dohttps://t.co/zmpw8M9fpL

— Fox News (@FoxNews) October 5, 2021
The 46-year-old entrepreneur and politician officially quit the Democratic Party entirely on October 4. The well-known moderate will run as an Independent instead. He hopes serving outside the constraints of the Democratic Party will empower him to do more for the people.
Yang is best-known for running against President Joe Biden and Donald Trump in last year's presidential race. He officially dropped out on February 12, 2020, conceding that he wouldn't manage to secure a win if he continued.
Yang remembers when he first registered as a Democrat during Clinton's bid for reelection in 1995. The politician says he's remained loyal to the party since then. Monday's announcement marks a significant departure from that position.
In a blog published the same day, Yang calls making the split "strangely emotional experience." He's confident that the Democratic Party is no longer right for him.
Yang also wrote about donating to Bernie Sanders's campaign in the 2016 presidential election. Despite that, he eventually voted for Hillary Clinton. He also reminisced about his own 2020 campaign and later support for President Joe Biden.
The newly Independent politician also issued a strong warning to his followers: don't change your political preferences just because he made the shift. Yang, along with other politicians, may be changing parties, but he isn't moving to the other side. Instead, they might consider aligning somewhere in the middle, where they can make a more significant difference.
Copyright 2021, DailyDig.com