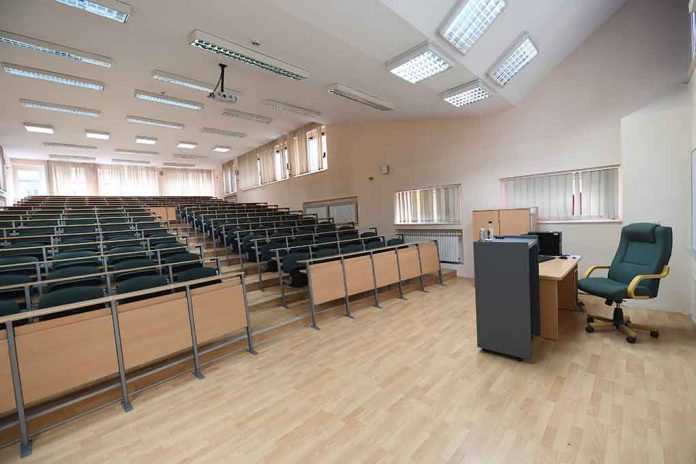 (DailyDig.com) – The education system has long struggled with financial troubles. Funding isn't necessarily the issue in higher education; colleges and universities make plenty of money. Yet, students can't always afford to attend due to skyrocketing tuition costs. One unnamed City College alumni took action to help ward off those effects for a handful of future students.
This unusual story starts with the delivery of a plain cardboard box that sat in the City College campus mailroom, later moving to the physics office.
A box full of $50 and $100 bills, totaling $180,000, was sent to the physics department at City College of New York. An enclosed note from the mysterious donor asked the school to use the cash to fund scholarships for needy students.https://t.co/nrGF0GLiyk

— The New York Times (@nytimes) December 21, 2021
Dr. Vinod Menon discovered the package, which was hefty enough to cost $90 for United States Postal Service priority mail. As he inspected it, he pondered whether it might contain a token of appreciation from a former student or some other small gift.
That wasn't at all what he discovered after opening the package. Instead, it contained a shocking $180,000 in cash.
Inside the box sat an unsigned letter indicating that the sender, who once graduated from City College with a master's degree in physics, wanted the money to fund scholarships for physics and math students. It did list a return address that led to a house in Florida with no connection to the donation.
The school contacted federal authorities to investigate whether or not the money was not the spoils of criminal activity. After a thorough investigation, federal authorities determined the cash and package were utterly untraceable.
While the package and its contents certainly stumped authorities, the school went ahead with keeping it and using it to provide two full scholarships per year for over a decade. The package also proves that despite all the negative people see today, plenty of positives still exist to light up a dark world.
Copyright 2021, DailyDig.com