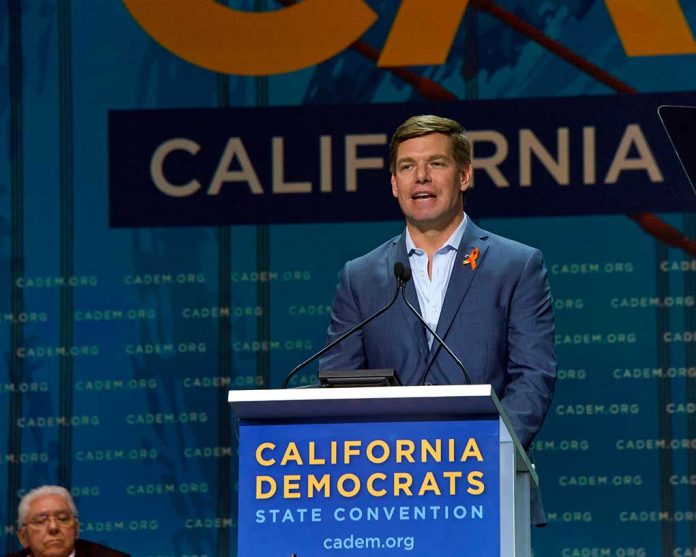 (DailyDig.com) – Many Americans would love to have the opportunity to have $30k to spend at one time — few can argue with that fact. If it's your money, you have the right to use it however you see fit. But what if that money was sent to you for a specific reason?
Eric Salwell (D-CA) is learning this important lesson first-hand. He recently landed himself in hot water after using campaign funds to go on a spending spree involving high-end restaurant visits, limousine rides, luxury hotels, expensive alcohol, and delivery services. All purchases took place during the second fiscal quarter.
Salwell spent more than $20,000 of the money at the Ritz-Carlton Half Moon Bay. The representative's wife has been the resort's Director of Sales for over a decade.
Records show that Rep. Eric Swalwell spent more than $30,000 in campaign funds on limousine rides, high-end restaurants, luxury hotels and alcohol delivery in the second fiscal quarter. https://t.co/0Y0kdtYO95

— Newsmax (@newsmax) July 21, 2021
This new report arrives only a short time after Business Insider posted photos of both Salwell and Ruben Gallego (D-AZ) shirtless while riding camels on the coast of the Persian Gulf in March, 2020. In that case, the trip was fully paid for by the US-Qatar Business Council, costing approximately $84,621.59. The council says it is dedicated to enhancing business relations between the two countries.
Swalwell has a long and well-documented history of connections to questionable people, at least one of whom may be a foreign spy. In 2020, the news outlet Axios claimed the man had ties to a former exotic dancer and CCP operative named Fang Fang.
Copyright 2021, DailyDig.com