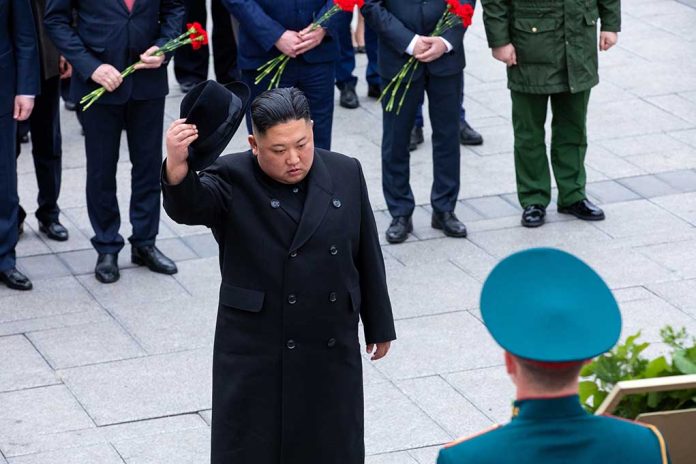 (DailyDig.com) – North Korea is ramping up on rocket testing once again after taking a break during the Olympic Winter Games in Beijing. The communist regime recently made headlines after its record-breaking number of missile tests in January. While the world is focused on Ukraine and Russia, North Korea decided to test a new reconnaissance satellite.
Despite the mounting pressure of international sanctions, Kim Jong-un, leader of the communist country, has continued to test its military weapons systems, namely its intercontinental ballistic missiles (ICBMs). When South Korea detected a missile launch on February 27, it immediately suspected an ICBM, adding that the weapon was likely a medium-range missile that originated from a mobile unit and at a steep angle.
However, South Korea's northern neighbor claims to have launched a reconnaissance satellite, not an ICBM.
BREAKING: North Korea says it tested system for *recon satellite* yesterday. https://t.co/dj6tPpYyTp

— Jeongmin Kim (@jeongminnkim) February 27, 2022
The Korean Central News Agency (KCNA), North Korea's official news outlet, reported on February 28 that the North Korean government had conducted a test, claiming it was significant in the development of a recon-satellite. KCNA confirmed the reports from South Korea that the test had taken place the day before, but it didn't support South Korea's claim of an ICBM launch. Jong-un did list the development of such satellites as a priority in 2021.
Joshua H. Pollack, a Middlebury Institute of International Studies analyst and senior research associate, pointed out the fact the communist regime has long been suspected of using satellite launches as a way to cover up ICBM testing, noting it provides a loophole for Jong-un to avoid his 2018 pledge to not suspend ICBM tests.
North Korea says it tested satellite imaging equipment in its recent launch from Pyongyang's Sunan Airport. @YonhapNews points out that the launch must have used a TEL (mobile missile launcher), since there are no fixed launch facilities in that area. https://t.co/foA6z7U8h9

— Joshua H. Pollack (@Joshua_Pollack) February 28, 2022
University of North Korean Studies in Seoul professor Yang Moo-jin noted how North Korea pushes the idea that ICBMs and the missiles they use to launch satellites have the same exterior features and internal workings. The similarities would allow officials to easily cover up ICBM launches, which concerns experts and analysts that North Korea never stopped its missile testing; instead, its military has just gotten better at hiding them.
Copyright 2022, DailyDig.com