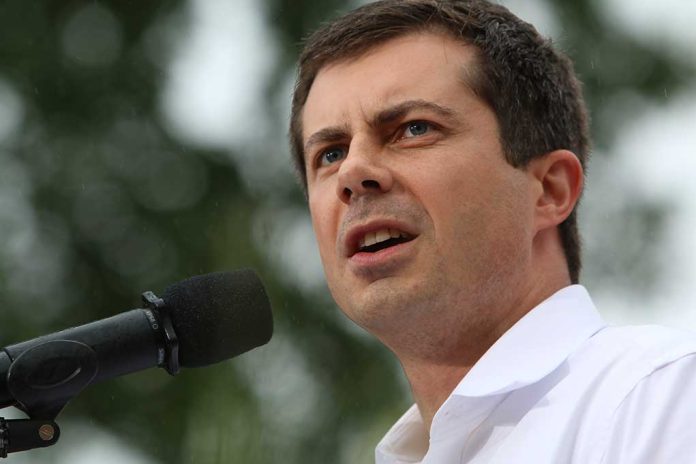 (DailyDig.com) – Anyone who's been to the store lately is apt to have noticed several items missing from shelves. America continues to experience a supply shortage, but all is well in the eyes of the Biden administration — even as the Transportation Secretary, Pete Buttigieg (D), claims the shortage will likely go into 2022.
The Transportation Secretary pointed out that there are both short-term and long-term solutions to the issues at hand. Buttigieg also asserted that the supply chain shortage was a good sign. He must know something the rest of America doesn't.
Transportation Secy. Buttigieg: Supply chain issues will continue into 2022 – https://t.co/2Z6DnUAdqx #OANN

— One America News (@OANN) October 18, 2021
In an attempt to paint the supply chain issues in a good way, Buttigieg claimed that it's not just a supply issue; it's a demand issue. The Transportation Secretary noted that the reason shelves are empty is because Americans are buying goods at a record pace. He believes demand is up because income has increased.
Shortages, not increased income, could be the bigger issue, and prices are through the roof as inflation continues to impact the country. People don't want more; there's just not enough to go around. There's a shortage of supply chain jobs as well, and ships are sitting in port, making it harder for companies to get the goods that people want to buy.
Buttigieg insisted the record amount of demand is a sign of President Joe Biden leading the country out of recession and into recovery from the pandemic. The assertion led into his pushing the Democratic multi-trillion-dollar reconciliation and infrastructure bills.
Republican lawmakers are unhappy about the supply chain crisis and even more dismayed over the fact that the Biden administration isn't coming up with a solution. Instead, Democrats urge Americans to do their holiday shopping extra early this year.
Copyright 2021, DailyDig.com