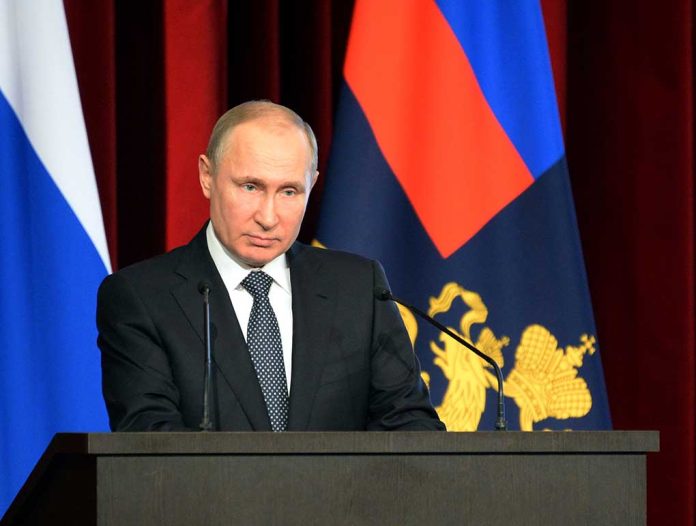 (DailyDig.com) – The Ukraine-Russia conflict has come to a boiling point with Russia taking action against the much smaller country. Western countries, including the US, threatened to impose sanctions on Russia, hoping to deter further escalations. However, as the world can now see, their best expectations have become their worst nightmares. Russian President Vladimir Putin is now calling the Western alliance an "empire of lies."
Putin calls West an 'Empire of Lies' after sanctions imposed https://t.co/z3ACkdcvQt pic.twitter.com/iYKI9lHnIG

— Reuters (@Reuters) February 28, 2022
President Putin, in the face of heavy sanctions against his nation, invited his country's top economic and financial officials to discuss issues that may arise from the sanctions he says an empire of lies imposed against Russia, referring to the Western community. The Kremlin said earlier Russia has everything it needs to offset any damage the sanctions create. Dmitry Peskov, a spokesman for the Kremlin, admitted Russia's economic reality has changed significantly but added the country prepared for it.
The Biden administration announced sanctions on Russia's central bank, prohibiting Americans from using it in any way and freezing all Russian assets in the US. Despite a decades-long economic relationship with Russia, Italy also imposed sanctions on the aggressor. Even the neutral country of Switzerland is stepping in, mirroring the sanctions set forth by the European Union.
Will Russia suffer under these sanctions? Or is the Kremlin's claim the country prepared simply a bluff? Critically, the sanctions don't seem to be stopping Russia's offensive. Is the North Atlantic Treaty Organization (NATO) doing enough to protect Ukraine?
What do you think? Reply to your email and let us know. We'd love to hear from you!
Copyright 2022, DailyDig.com