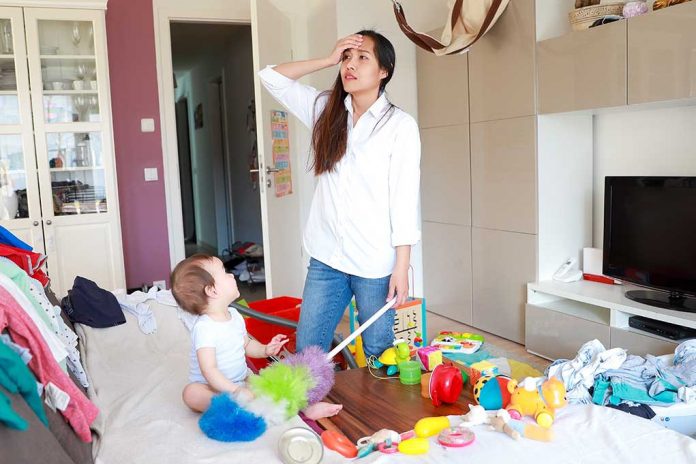 (DailyDig.com) – Parenting is a job like no other. At the end of the day, you ultimately work one of the hardest jobs in the world for free. Yet, some stay at home parents (often mothers) are seen as lazy; people claim they get to "sit at home" all day long. Anyone who has ever spent time caring for children knows this simply isn't true.
Unfortunately, this man didn't seem to get the message.
Stay-At-Home Mom Goes Viral With 2.1M Likes For Showing What She Does All Day After BF Blames Her For Doing Nothing #moms #parenting https://t.co/bVLG9sFCSu

— Bored Panda (@boredpanda) July 13, 2021
After being accused of doing nothing all day while her boyfriend works, a 22-year-old mother had the perfect response. So perfect, in fact, that the video went viral, receiving over 10.7 million views and 2.1 million likes.
The video depicts what she does all day with a surprise exception at the end. But, it doesn't include all of her daily responsibilities, as the mom clearly pointed out.
After turning comments off on the TikTok video, the woman's boyfriend began to receive hateful comments and insults on his own account. The couple released an additional two videos explaining that she made the video after the couple had an argument. Sierra also confirmed they were both on good terms; she was just expressing her frustration.
If you watch the video, one fact you'll immediately agree with is that she works hard in taking care of her kids. She also ensures the house stays clean to the best of her ability while juggling a plethora of other tasks. The only payoff you get is watching your children grow up, and hopefully, contribute to society themselves. But the experiences you'll have, and memories you'll make along the way, are more precious than gold.
Copyright 2021, DailyDig.com