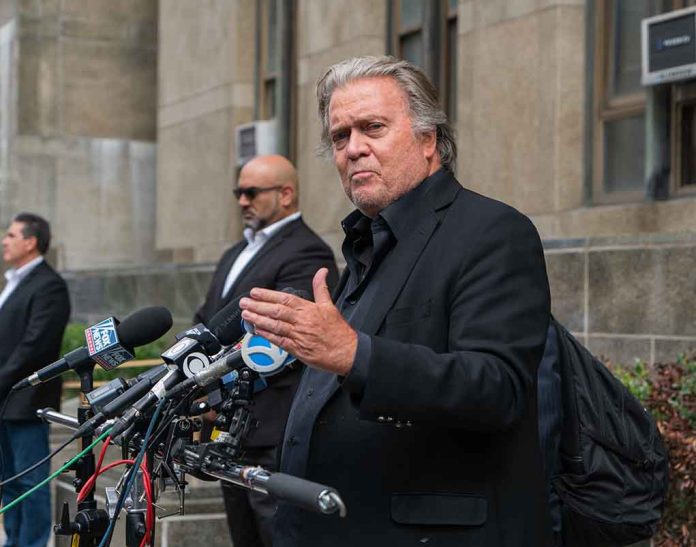 (DailyDig.com) – During an episode of his War Room podcast on Saturday, Nov. 26, Steve Bannon chastised the administration of Donald Trump for allowing artist Kanye West and white supremacist Nick Fuentes to dine at the previous president's Mar-a-Lago estate.
Trump started his presidential run for the 2024 election earlier Nov. 2022. He has faced criticism for his meal with Fuentes, a Holocaust denier, and West, who has lately made some antisemitic statements online. The former president justified the encounter, claiming he had no idea who Fuentes was.
Bannon, who was a Trump advisor in the past, queried why Trump's aides permitted the problematic meeting to take place, calling it a set-up to harm Trump's image. He claimed that the encounter was set up to embarrass Trump and make it appear as though the previous president lacked discernment. He said that it was purposely designed to cause controversy and the personnel should have been aware of this. They should have intervened to ensure that this event didn't happen.
After participating in the horrific white supremacist rally that took place in Charlottesville, Virginia in 2017, Fuentes catapulted to the forefront of public attention. He is famous for comparing the mass murder that occurred during the Holocaust to the process of baking cookies in an oven.
Meanwhile, on Friday the 25th of November, Trump justified the meal by saying that he was merely aiding a buddy who was being attacked for his opinions. In other words, Trump was defending the dinner. He explained that he had granted permission for the "meeting at Mar-a-Lago, alone, so that I can give him very much needed advice."
Trump said they spoke about politics and that advised him he shouldn't run for President. They got along wonderfully and there were no anti-Semitism comments.
After it was revealed that anti-Semitic musician Kanye West and his collaborator Nick Fuentes met with Donald Trump at Mar-a-Lago, prominent Republicans opted not to condemn him directly.
Copyright 2022, DailyDig.com