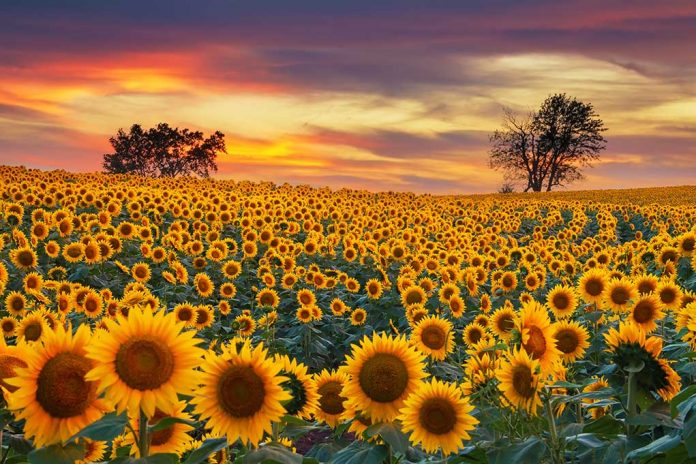 (DailyDig.com) – The United States is a big place, with every state that resides within it being unique. While Kansas may not seem like that interesting of a state, you might be surprised. Check out these astonishing facts about the sunflower state.
The Land of Firsts
Kansas has played a pretty significant role in our history. For example, did you know that the first US airplane factory opened in Wichita? The very first Pizza Hut opened in Wichita as well. And White Castle, the very first hamburger chain. Oddly enough, modern-day Kansas contains zero open White Castles.
Greensburg, KS was the victim of the first EF5 tornado, which destroyed 95% of the town. The first female mayor to serve in the United States, elected in 1887, served in Argonia, KS.
Geography
Rumor has it that Kansas is as flat as they come — seriously it's about as flat as a pancake. Everyone knows Chicago, IL as the "Windy City." However, Dodge City, KS is actually the windiest city in the entire United States. This rival city averages wind speeds of 14 miles per hour, likely due to the flatness of the state.
Kansas is stereotypically recognized as a farmland state, and rightfully so. In fact, about 88% of Kansas is usable farmland. And Kansas may be flat on the surface, but it houses more than 500 caves within its state lines.
Miscellaneous Facts
Were you aware the geographical center of the contiguous 48 states is located in Smith County, KS? Or that Kansas earned its nickname of "the Sunflower State" due to the wild sunflowers that are common to the region? Eventually, sunflowers would become the official state flower, appearing on both Kansas' flag and the state quarter.
There is a church in Kansas that was built during one of the "grasshopper plagues." Despite what they were facing, the First United Methodist Church was finished, leaving thousands of grasshoppers behind in its foundation. The church was completed in 1874, in Hutchinson, KS.
As you can see, the state of Kansas may appear boring at first, but the more you dive into the state's history and heritage, the more you'll find it's simply not true. Kansas has been a large part of our history and likely will continue to be. Of course, as with any state, Kansas has its pros and cons, but it's far from boring.
Copyright 2021, DailyDig.com