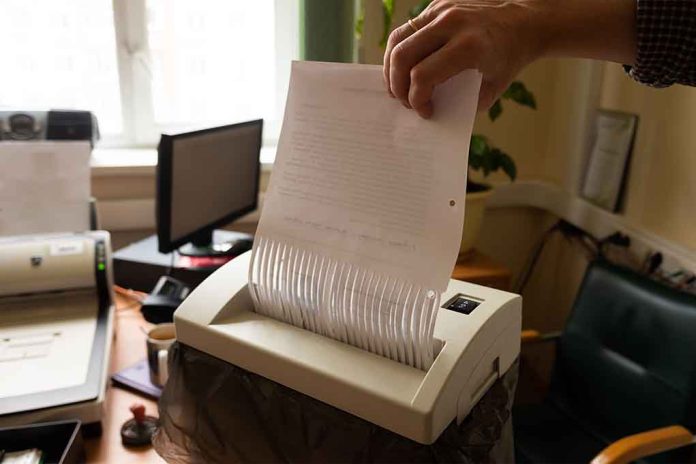 IRS Audit Uncovers PROBLEM – They Promise It's Not Serious
(DailyDig.com) – Some Americans fear that the Internal Revenue Service (IRS) may one day perform an audit on them. However, the majority of America probably never would have guessed IRS itself can be audited. The Treasury Inspector General for Tax Administration (TIGTA) recently uncovered some shocking details about the IRS after performing such a task on the agency.
SHRED UP: Audit finds IRS employees destroyed 30M taxpayer documents https://t.co/FjRLqucyvH

— FOX Business (@FoxBusiness) May 22, 2022
Fox News reported the audit revealed that the IRS shredded over 30 million documents. The agency allegedly claimed it was due to a massive backlog. The IRS released a statement ensuring American taxpayers that "no negative taxpayer consequences" would result from their actions, adding taxpayers wouldn't be subjected to any penalties.
Fox News revealed in its narrative that W-2s and 1099s were part of the documents the IRS destroyed. They also noted the TIGTA found inaccuracies within the IRS's responses explaining they didn't have "an accurate and comprehensive list" of businesses' or individuals' taxpayer forms they couldn't e-file.
To fix this issue TIGTA recommended the IRS "develop processes and procedures" identifying and addressing corporate filers that could be non-compliant. However, the IRS didn't like the recommendation. TIGTA went on to recommend the IRS create a way to ensure "penalties are consistently assessed." The agency again disagreed.
The IRS is struggling to keep records organized, but TIGTA attempted to provide a solution to reduce the disorganization. Should Americans worry over these revelations? Perhaps the unsystematic method alone should be enough to raise some concern.
Copyright 2022, DailyDig.com