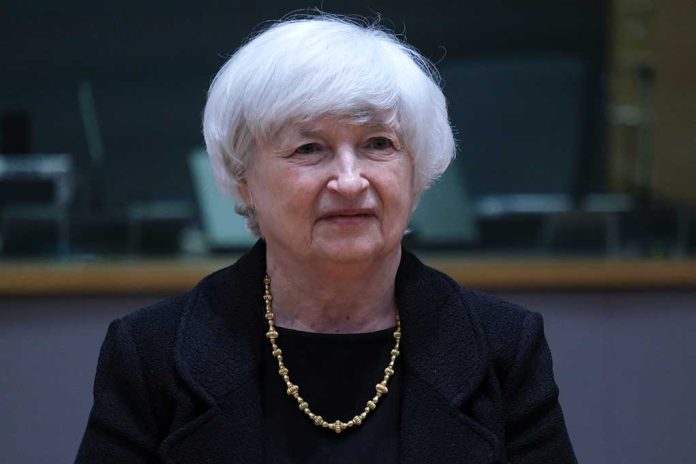 Is Something Good About to Come Out Of Biden's Gas Crisis?
(DailyDig.com) – Inflation is through the roof, taking gas prices with it. The Biden administration has repeatedly said it's doing everything it can to reduce costs and relieve struggling Americans, but no solution thus far has made a difference. Now, the White House is reportedly looking into implementing a federal gas tax holiday. Janet Yellen, Secretary of the US Treasury, seems to think the move would be a good idea, while a number of Republicans have other thoughts.
Creating a Federal Gas Tax Holiday
Secretary Yellen recently spoke with George Stephanopoulos on ABC's "This Week." The host asked Yellen if the president was considering a potential gas tax holiday as being a short-term solution to the inflated prices. The secretary said the administration admits fuel costs have become a burden for households to bear. The president reportedly feels the tax holiday is an "idea certainly worth considering," and he's "ready to work with Congress."
Jennifer Granholm, Secretary of the Department of Energy, had similar thoughts during an interview with CNN's Dana Bash on "State of the Union." Secretary Granholm also claimed President Biden is doing everything he can to reduce the impacts at the pump, admitting it was a challenging feat. Still, as tempting as it might be to jump on the tax holiday, lawmakers first need to consider all factors because those funds generally go toward infrastructure projects such as road repairs.
Republican Resistance
While many lawmakers are on board with Biden possibly suspending the federal gas tax, there are plenty who aren't okay with the move. Some Republicans have claimed suspending the tax would increase the extra money in people's pockets and drive them to spend it in the store, adding to an already high inflation rate. Kiplinger reported that two Republican senators, John Kennedy (LA) and James Lankford of (OK), rejected the idea.
Kennedy called the move a "gimmick," claiming a gas tax suspension wouldn't help anything. Meanwhile, Senator Lankford asserted the gas tax holiday wouldn't pass the Senate. Even Senator Mitt Romney (R-UT), who has a history of siding with Democrats, has admitted the move may not be the wisest. Other Republicans joined Romney to echo what Energy Secretary Granholm hinted at: Suspending the gas tax would impact infrastructure funding.
Will Biden decide to suspend the federal gas tax? The move is less likely to happen than a state suspension — and because many states have additional fuel taxes of their own, the impact at the federal level wouldn't be as great as that of a state-level suspension. Ultimately, will either option make any real difference?
Copyright 2022, DailyDig.com