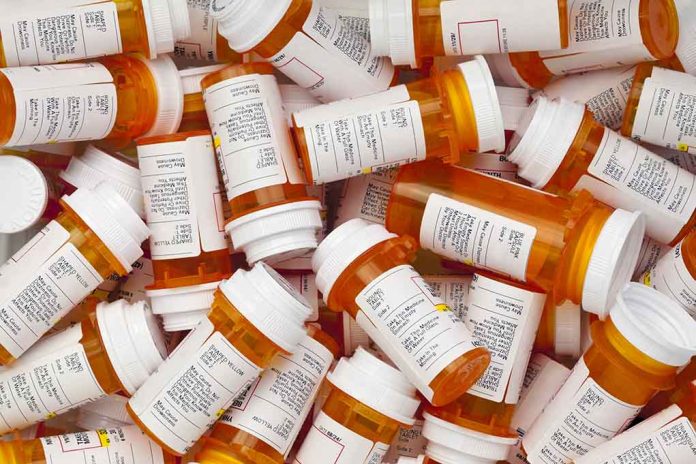 Prescription Costs Are SKYROCKETING – But There's Help Available
(DailyDig.com) – One of the biggest health care challenges people face is how to pay for prescription drugs. Unless you're covered under a private insurance plan, or are on Medicaid, drug costs can be prohibitive, often making people choose what to give up in order to afford their medication. In some cases, even people with gold-level private coverage face charges in the hundreds of dollars if there is no generic option available in a given medication. So how can you afford your prescriptions?
If you can't afford your medication, the first thing you should do is apply for Medicaid, a federal program that offers low-cost and sometimes free benefits to recipients. Every state has different rules on who qualifies, but start at the HHS.gov website.
Here are some of the ways you can lower some prescription drug costs. Even if you have Medicare, you might need gap coverage (the amount after  your annual spending limit) for these expenses.
1. Ask About Switching to a Generic or Lower-cost Medication
When a new drug hits the market, the manufacturer has a monopoly on that medication for roughly 20 years. After that, the patent expires and other companies are free to make generic—not name brand—versions of the drug. Those second-tier laboratories must ensure that the generic option works in the same way and has the same clinical benefits as the original, so you can take the off-brand version just like you would the name-brand, with the exact same results.
2. State Pharmaceutical Assistance Programs
Most states (Hawaii, Nebraska, and Minnesota are the exceptions) have programs in place to help citizens pay for prescription drugs.  Most states also offer discount programs alongside the state-funded programs, further lowering your prescription costs. Contact your state's Pharmaceutical Assistance Program to find out if you qualify and how to sign up.
3. Ask Your Doctor for Help
Private drug assistance programs work with health care providers to make sure that patients can get the drugs they need. If you can't afford the prescription, tell your doctor and they will contact the manufacturer for help. Their office is there to help patients, so they're usually happy to do the paperwork to make sure you can get the prescribed meds, rather than see you come back because you haven't been able to get the drugs and aren't getting better.
4. Nonprofit Prescription Help
There are several non-profit organizations that help people afford their prescription drugs outside of your provider's office. These companies can help you get the medication you need at a price you can afford.
Needymeds
Needymeds covers anyone, whether you have health insurance or not.  They offer comprehensive services that include locating free or low cost clinics, your state programs,  Patient Assistance Programs, and drug discounts. Call 800-503-6897 for more information.
Partnership for Prescription Assistance
If you don't have prescription insurance, this program helps you get the medication you need at deep discounts, or even free. They work with both public and private sector entities to get you the lowest prices for your medication.
RxHope
When you're looking for information on a specific drug, RxHope consolidates program descriptions, medications, and applications in one place. Their process is more tech-forward than most, so they can determine your eligibility in a few minutes—sometimes the paperwork can take weeks.
GoodRx
This is a database that compares drug prices in your area, including drugstore chains, local pharmacies, grocery pharmacies, and mail order options. They also have downloadable coupons that can help you save off the listed price, but you can usually get a better deal using a manufacturer's coupon that you can get from your doctor.
Don't give up on your health because your medication is too expensive. There are resources for you to get the help you need to afford your prescriptions.