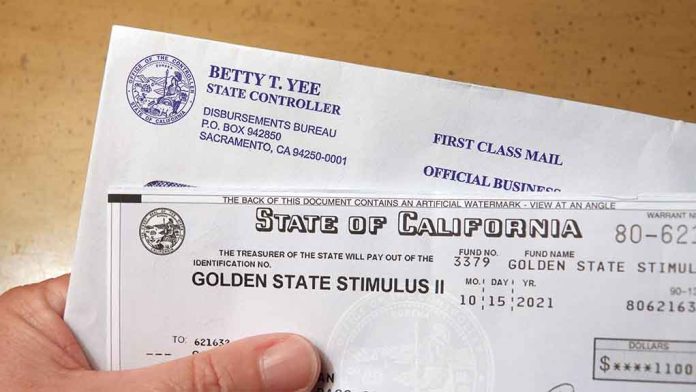 (DailyDig.com) – While the federal government sent its final stimulus checks out in 2021, many Americans are still struggling from ongoing economic difficulties. Because of this, several state governments have stepped up to provide "stimulus" checks to their residents in 2023. Here is a brief look at who is offering stimulus payments to taxpayers.
California
California's "Middle Class Tax Refunds" provided inflation relief to millions of taxpayers, with refunds of up to $1,050 that were paid either through direct deposit or as a pre-loaded debit card. While most payments went out in 2022, the state expected to send the remaining payments in January.
Colorado
In September of 2022, state residents who had filed their 2021 tax return by June 30 received a check for $750 for single filers and $1,500 for joint filers. While most checks were already received, a small portion were expected to arrive in January. The money was provided courtesy of the Taxpayer's Bill of Rights Amendment, which was passed by state voters in 1992 and limits the amount of revenue the state government can spend without voter approval. When state revenue exceeds this limit, the state is required to give the money back to taxpayers.
Illinois
Illinois residents who earned less than $200,000 in 2021 are eligible to receive a income tax rebate of $50 in 2023, while joint filers earning less than $400,000 are eligible for a $100 rebate. Additionally, Those who paid property tax and meet certain income requirements are also eligible for a property tax rebate of up to $300.
Maine
Maine residents who were full-time residents of the state as of October 31, 2022 and filed a personal income tax return for 2021 with income of less than $100,000 for single filers, $150,000 for head-of-household filers, and $200,000 for married filers with a joint return can receive a payment of up to $450 for single filers and $900 for joint filers. Payments are due to begin going out in January, with the state tax assessor having until September 30, 2023 to send relief payments to eligible residents who contacted them by June 30.
Massachusetts
Massachusetts stimulus tax refunds are available for anyone who filed a 2021 personal income tax return. The amount of the refund is 14.0312% of the filer's income tax liability, but is subject to reductions for child support, tax liabilities, and other specific types of debts. Payments began in November, 2022, but late filers have until September 15, 2023 to file their 2021 tax return and qualify for the refund. The money for the refund is the result of Chapter 62F, a state law that requires money to be refunded to taxpayers when the state exceeds its annual revenue cap.
New Mexico
Taxpayers in New Mexico who file their 2021 tax return by May 23, 2023 and whose incomes are less than $150,000 for joint filers and $75,000 for single filers can still obtain a rebate check for $500 or $250, depending on your filing status.
South Carolina
Those in South Carolina who file their 2021 tax returns by February 15, 2023 and have a tax liability can qualify for a rebate of up to $800. While the original deadline for tax filers who sought an extension was October 17, 2022, the date was pushed back in order to give those who were impacted by Hurricane Ian more time to file. Their rebate should be issued by March 31, 2023.
What If Your State Isn't on the List?
If you're in need of assistance following impacts related to the pandemic and subsequent inflation, and your state isn't offering stimulus money in 2023, there is still help available. Go to benefits.gov to learn about programs that provide assistance with housing, food, and other benefits.
Copyright 2023, DailyDig.com