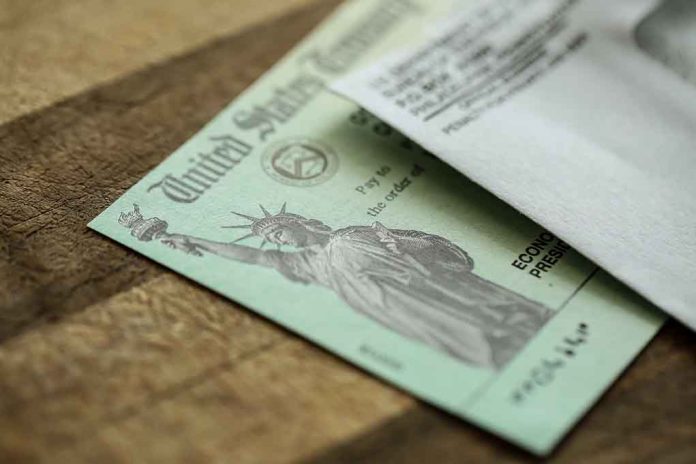 (DailyDig.com) – If there was an upside to the events of the past few years, it was the billions in stimulus checks that the US government sent out to millions of Americans. The IRS distributed this stimulus money in three batches: $1200 in April 2020, $600 in December 2020, and the final payment of $1400 in March 2021,
There have been some grassroots efforts  from public advocacy groups, such as change.org, to force Congress to continue these stimulus payments, but so far there is no real action towards this on Capitol Hill.
What is making this loss of stimulus income even harder for working families is that the expanded Child Tax Credit has also expired. This pandemic-era credit paid families $300 per month for every child under 17 in the home. The IRS still has the Child Tax Credit deduction, but the monthly checks were a huge benefit for families struggling to make ends meet every month.
Although there are no more federal stimulus checks on the horizon, some states are sending out an extra payment in 2023. Where is the money coming from? The federal government has given the money to every state, but it's up to your individual state government to determine how they will spend the grant.
Other Benefits That May Be Available
There is both federal and state assistance for families who haven't yet fully recovered economically from the pandemic.
SNAP
The federal government funds the Supplemental Nutrition Assistance Program in the US, although the program is administered on the state level. Most SNAP recipients are families with children, and about 30% are households with disabled or older (over 60) adults. To qualify for SNAP, you must meet the following requirements.
Be a US citizen or documented non-citizen
Have up to $2750 in assets (bank accounts or cash), or $4,250 if a member of the household is disabled or over 60.
If you are a non-citizen, you must also be the following:
Lived in the US for at least 5 years
Be receiving other disability benefits or assistance
Be a child under 18
To apply for SNAP benefits, go to the USDA website and click on your state for instructions on how to apply. You can do it online, but you may be asked to upload documents.
TANF
The Temporary Assistance for Needy Families (TANF) program is a federal program that's part of the Department of Health and Human Services (DHHS), but is administered at the state level and helps low-income families become self-sufficient. TANF provides both monthly cash benefits and a broad range of services for recipients.  These are the eligibility requirements for TANF.
You must be a US citizen, legal or qualified alien (documented)
Be unemployed or underemployed, earning a very low income
Have a child under 18
Be pregnant
Be 18 or younger and the head of the household
To apply, go to the DHHS website and click on your state to apply for TANF services and benefits.
Section 8 Housing Vouchers
The Department of Housing and Urban Development offers housing aid through the Section 8 voucher program. Section 8 makes safe, decent, and sanitary housing for very low income families, the elderly, and disabled in the form of rental assistance. People who have Section 8 vouchers can find their own place to live, or find subsidized government housing, and HUD pays all or a portion of the rent every month directly to the landlord.
Eligibility requirements are as follows.
US citizens and non-citizens with qualified immigration status
Family income does not exceed 50% of the county or metro area where you live
To find out the income and assistance limits where you live, go to the HHS website. To apply for rental subsidies through Section 8, visit your local Public Housing Authority.
Copyright 2023, DailyDig.com