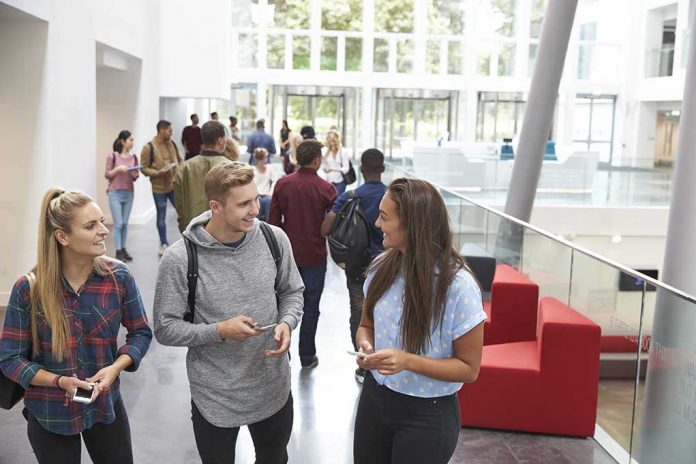 (DailyDig.com) – Black Lives Matter (BLM) is a politically decentralized social movement. It protests against police brutality and racially-motivated violent crimes against the Black community. While this might sound like a noble cause, some of these social justice groups take their mission even further — and straight into the homes of innocent people.
One BLM group in Dallas, TX is holding nothing back. They're attempting to guilt-trip white families into something many feel is plainly ridiculous.
In a recently launched campaign, Dallas Justice Now asked white families in a particular Dallas neighborhood to "hold their children back" from going to college for the sake of "equity."
Wokeness Hits Home: BLM Group Demands Parents Pledge to Hold Back Their Kids' Education https://t.co/M9Z7SdTatD

— PJ Media (@PJMedia_com) July 26, 2021
The letter sent out by the group claims that the residents of the Highland Park neighborhood live in the "wealthiest" and "whitest" part of Dallas, which they also claimed to be "segregated." The group's letter goes on to say that the people in the Highland Park area either "inherited" or "earned" their money through the oppression of people of color.
The pledge found within the letter states that the person signing the pledge will not allow their child or children to apply for or attend any US News & World Report Top 50 School or Ivy League School. For those that don't have children under the age of 18, the letter then asks for those who take the pledge to encourage their "white-privileged" friends to do the same.
The reason they ask this of parents is in an effort to allow spots for children of color to attend these schools and get an education, and later, access to job opportunities. Florida mother Keisha King is standing up for her community by stating that Critical Race Theory (CRT) is actually hurting the very same black community it's supposed to help.
King argues that telling America's black children they're oppressed simply based on the color of their skin, and that white people are somehow "above" blacks, is inherently racist.
These organizations may seem noble in their quest for social justice. However, more often than not, they are just as hypocritical as they are guilty of judging people by the color of their skin. Ultimately, this is still a form of discrimination, and thus, racism.
Copyright 2021, DailyDig.com