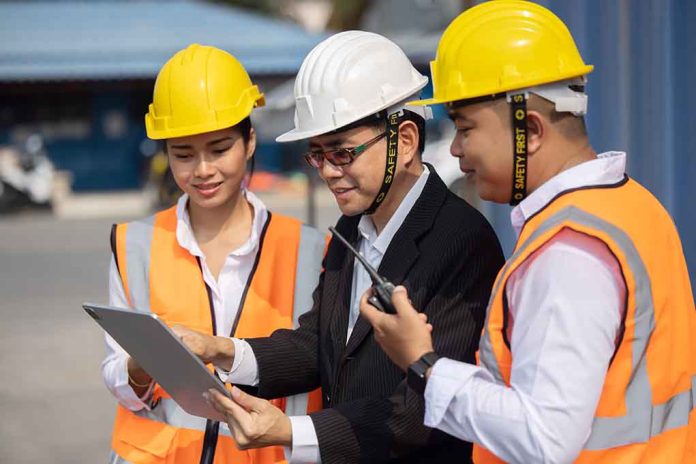 Want a 6-Figure Income Without College? These Trade Jobs Are HIRING!
(DailyDig.com) – While not everyone has the opportunity to attend college, that doesn't mean they can't earn a decent wage. Trade jobs are often overlooked in the world of six-figure salaries. With the proper training and education, you could find yourself raking in six figures without ever having to sit through another lecture on Shakespeare. There are several trade jobs with the high demand. Here are 10 with the potential to lead you to six figures.
What Exactly Is a Trade Job?
A trade job is any occupation requiring modern education and training from various sources other than colleges and universities. Instead, trade workers undergo apprenticeships, specialized education programs, vocational institutions, and on-the-job training.
Want a 6-Figure Income Without College? These Trade Jobs Are HIRING!
Boilermaker
Boilermakers fabricate and install and repair boilers, which convert water into steam. These craftspersons work in power plants, steel mills, oil refineries, shipbuilding, pharmaceutical plants, and other industrial facilities. Boilermakers are ideal for working in nuclear reactors because they are accustomed to withstanding high temperatures and pressures while working under challenging conditions.
Boilermakers receive an average wage of $33.21 per hour and $ 69,070 annually, with a 1.6% wage rise. Experts predict that this trade job will grow by 8.7% by 2026. While the craft is physically demanding, it's pretty rewarding.
Plumber
Any environment that uses pipes, fixtures, and fittings, including residential homes, businesses, offices, plants, and factories, requires a plumber. Plumbers install, assess, maintain, and repair plumbing systems. Even with intelligent plumbing systems that self-diagnose, plumbers are still essential to maintain and repair the plumbing systems.
A plumber earns $28.79 per hour and $59,880 annually. There are two main classes of plumbers. To become a journeyman plumber, you'll undergo up to four years of apprenticeship and gain experience. A significant requirement for a master plumber is 12-24 months of active plumbing experience.
Horse Trainer
Horses are majestic animals that can be kept as farm animals, racehorses, or pets. Horse training can be fun and engaging. However, it's a challenging endeavor, especially where young and unpredictable or wild and untamed horses are involved. Successfully training a horse requires dedication, patience, and skills. Most horse trainers and broncobusters learn on the job through other experienced and skilled trainers.
A horse trainer's average salary is $74,333 per year. This profession relies heavily on experience, with the most experienced, such as racehorse trainers earning over $300,00 annually.
Hazardous Material Removal Workers
The sight of a person wearing a hazmat suit is always a scene from a horror movie and is enough to cause shivers. These workers spot, package, remove, transport, and safely dispose of hazardous materials, such as asbestos, lead and lead-based materials, radioactive waste, contaminated soil, and waste crude oil and petroleum products.
Hazmat removal workers earn $47,412 yearly or $22.79 hourly. Ideally, you only need a high school diploma or equivalent and some on-the-job training. However, an EPA certification might earn you over $80,000 annually.
Electrical Power-Line Installer and Repairer
Electrical line workers install, assess, test, maintain, and repair electrical power lines, wires, or cable and distribution systems. These trade workers may also build light or heavy-duty transmission towers, poles, or lights. Vocational training is a requirement to become an electrical line worker, after which one to two years of on-site formal job training once hired.
An electrical line worker earns an annual average income of $79,060 or $38.01 per hour. There are plenty of opportunities for electrical line workers in the telecommunications, energy, and utility industries.
Emergency Medical Technicians (EMTs) and Paramedics
If you are looking for a life-saving and high-pressured but fulfilling career in the medical profession, consider becoming an EMT or paramedic. These two positions are also great starting points if you want to bloom in the medical sector. Paramedics and EMTs respond to and inspect illnesses, injuries and trauma and dispense primary and, on occasion, advanced medical care, medications, and life support where necessary.
The salary of an EMT and paramedic depends on experience, certifications, additional skills, and academic levels. Nevertheless, the average pay stands at $49,500 annually or $23.80 hourly, with a 7% projected growth from 2021 – 2031.
Elevator Installer and Mechanic
Would you imagine going up the 104 floors of the One World Trade Center or moving around the King of Prussia Mall without escalators? Elevator installers install, maintain, and repair elevators and escalators in various buildings and sites to help people move conveniently. That way, people with health problems can move quickly.
These trade persons earn $97,860 per year or $47.05 per hour. While a High school diploma or equivalent will grant you entry into this profession, a National Association of Elevator Safety Authorities International certification may help you advance and earn more.
Wind Turbine Service Technician
Governments, businesses, and individuals are always looking for renewable and sustainable energy sources like wind. Wind turbines are a great renewable energy source but require routine maintenance and monitoring. Wind turbine service technicians (wind techs) install, monitor, operate, maintain and repair wind turbines.
A wind tech earns $27.05 hourly or $56,260 annually, with some areas and industries paying over $100K. With a 44% projected growth by 2031, this profession is among the fastest-growing occupations. However, you have to be ready to work at considerable heights.
Locksmith and Safe Repairers
Losing or misplacing your car or house keys or forgetting your safe combination is nerve-racking. Fortunately, there are professionals to handle such situations. Locksmiths and safe repairers make new or duplicate keys, install, inspect, maintain and repair mechanical and electrical locking devices, and open, change and maintain secure locks, among other duties.
The mean annual wage for locksmiths and safe repairers is $22.98 hourly and $47,810 annually. While technology is phasing out manual keys on vehicles and houses, these two professions remain vital in our daily lives.
Nuclear Power Reactor Operators
Nuclear power plant operators control and monitor nuclear reactors and controls, observe high-level safety operations, and enact safety protocols when necessary. These operators work hard to provide power while preventing nuclear disasters such as the Three Mile Island, Chornobyl, and Fukushima disasters.
While there are only 54 commercially operating nuclear power plants with a total of 92 nuclear power reactors in the United States, a nuclear power reactor operator is a vital profession. This profession fetches a median pay of $94,790 per year and $45.57 per hour and requires vocational training and long-term on-the-job training.
You Don't Need a Degree to Make Serious Money
A trade job is not a job you have to do just because it's there. It's an opportunity, one that can lead to unimaginable success. The list above shows how much money you could make, with the potential of earning you six figures, from a trade job without ever graduating from college. So if you're looking for a new career path or want some inspiration, check out these exciting jobs today.
Copyright 2022, DailyDig.com