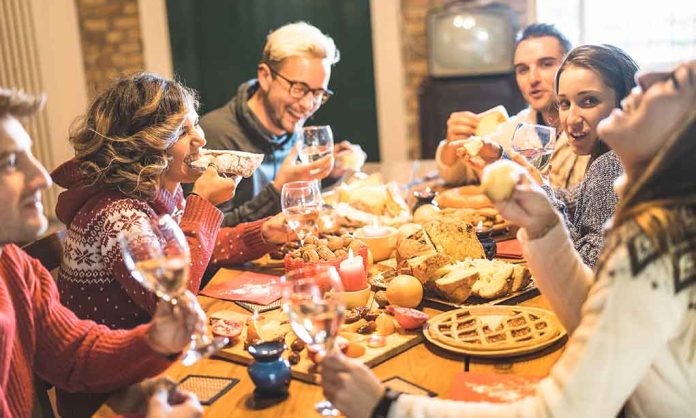 (DailyDig.com) – Thanksgiving is a wonderful time to spend with family and friends! Unfortunately, with supply chain shortages, inflation, and wages not matching the rate of inflation, you might feel a bit stretched to get Thanksgiving together this year. Fortunately, we have eight tips to help you afford your special holiday.
Offer More Than One Selection of Meat
Turkey is standard, but lots of people also enjoy ham, chicken, or roast beef on Thanksgiving. If that's the case in your family, you can save money by price checking and comparing the costs of meats. You might wish to get a small turkey and a small ham, depending on what people like.
Host a Pot Luck Dinner
Is your entire family stretched a bit thin this year? Solve it with a pot luck: everyone makes or brings one dish. The discussion can get lively, but open a Facebook or group text chat so you can discuss what you'll bring.
Are You Alone? Ask a Friend!
It can feel imposing if you're in need and lonely around the holidays, but one way to save money and brighten your spirits is to go to someone else's house for Thanksgiving, especially if you live alone or have limited interactions with others. Most friends wouldn't mind having you — and they wouldn't mind if you asked to join their table. Many times, others don't realize that single, widowed, divorced, military spouses with deployed partners, and empty nesters are alone on the holidays.
It is polite to bring one item if you go to someone else's place. If you'd like to bring wine, consider also bringing a nonalcoholic beverage for everyone to enjoy. You can ask about what desserts they have planned and bring a different type, especially if there will be a lot of people there. If they say they're good on food, consider bringing a small gift. With winter holidays around the corner, it might be appropriate to bring something like a Christmas tree ornament if they celebrate. Hallmark, for example, often has $8 sales on their Disney ornaments, and you can find cute and meaningful ornaments at most stores for just a few dollars!
Participate in Friendsgiving
Do you have a friend group you want to spend time with around the holidays? If you're estranged from your family, ask your friends over for a Friendsgiving. Many friend groups also do Friendsgiving the day after Thanksgiving, and they bring their leftovers and celebrate pot luck style.
Use SNAP Benefits
Do you get Supplemental Nutrition Assistance Program benefits, also known as food stamps? Common Thanksgiving staples like turkey, gravy, canned vegetables, frozen veggies, and stuffing are usually permitted with food stamps.
Join a Buy Nothing Group
Buy Nothing groups, typically organized on Facebook, are for people to give and receive gifts from the community. The idea is that you don't have to throw things out. Instead, they stay in the community, and other people save money by getting them for free!
During the holidays, you'll usually find people giving away holiday-related items. In the week prior to Thanksgiving, you'll often see people posting free Thanksgiving-related things. from free turkeys to gravy boats and table runners, you can save money by getting it for free. People will also give away uncooked or uneaten food, like leftover store-bought refrigerated pies, the day after.
Check the Dollar Store
Are you also looking for Thanksgiving decorations? The Dollar Store is your best bet. Last minute grocery store purchases will cost you double. If you're not near a Dollar Store but you do live near a Target, they often have a $5 decor section. Five Below is also a great resource for any inexpensive holiday decoration.
Consider Charity
Lastly, if you're really low-income and need assistance, many charities provide turkeys at Thanksgiving for those in need. Typically, you have to sign up in advance. Some people receive turkeys from their employer, which they donate as their family may already have one. Don't hesitate to ask local charitable organizations for help.
Enjoying Thanksgiving with your family and friends shouldn't cause financial stress. Take advantage of deals, carefully consider your food stamps if you have them, and if all else fails, take advantage of charitable giving.
Copyright 2022, DailyDig.com