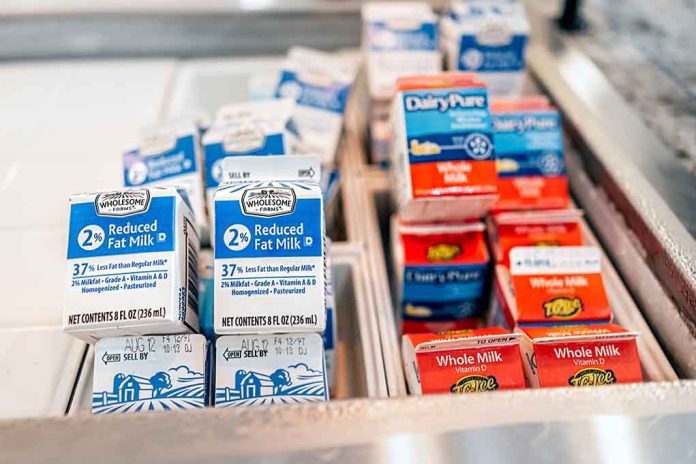 Know If YOUR Child Qualifies For The Special Milk Program
(DailyDig.com) – To help ensure that as many children as possible have access to nutritious food and beverages, there are a variety of federal programs available for low-income families. The Special Milk Program, which is managed by the United States Department of Agriculture, is one such program.
What is the Special Milk Program?
The Special Milk Program provides milk to children that attend schools or other institutions that do not participate in other federal nutrition programs. The other institutions may include child care institutions or summer camps, for instance.  Even if schools participate in the National School Lunch and Breakfast Programs, they can still participate in the Special Milk Program. This allows them to provide milk to children in pre-kindergarten programs or half-day kindergarten who do not have access to other federal meal service programs. Schools and institutions are reimbursed for the milk through this program.
Who is Eligible for the Special Milk Program?
Any student or child at a participating school or institution can receive half pints of milk as part of the Special Milk Program. The School Meals income eligibility guidelines outline the requirements for free or reduced price meals or free milk. If a household qualifies for free school meals, the children are eligible for free milk.
How Do Parents Get Free Milk for Their Children?
Parents and guardians who are interested in the Special Milk Program can first contact the school or institution the child attends to see if they participate. If they do not participate and cannot provide information for enrolling, potential applicants can contact their state agency. Nutrition assistance programs that are funded by the Food and Nutrition Service are generally administered at the state or local level. The state agency can give specific information for eligibility and enrollment.
The Special Milk Program is just one of many nutrition assistance programs available to low-income households. Those in need should always reach out to their state agency about available programs to help feed their families.
Copyright 2022, DailyDig.com