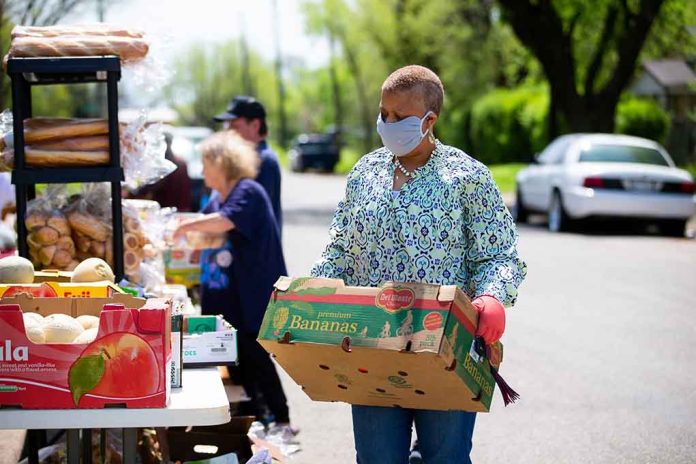 (DailyDig.com) – Food banks and food pantries both have an important role in feeding those in need. One works to store food that is intended for the needy, and the other is used to distribute the food. Here is a look at the differences between a food bank and a food pantry, and how individuals can find food pantries or even pet food pantries near them.
Food Banks are Used for Storage
As explained by Feeding America, a food bank is a storage facility operated by a nonprofit organization where donated food is stored for local food programs, including food pantries. These storage facilities can range from a basement in a church to a facility that is double the size of a wholesale club. The food that is collected in food banks is generally donated by grocery stores, neighborhood or school food drives, and restaurants.
Good Shepherd Food Bank of Maine adds that the non-profit running the food bank also has the responsibility to solicit, receive, and inventory food donations and to act as a grocery store for the local food pantries, as well as ensuring that their partner food pantries have the resources they need to feed those who are seeking assistance from them.
Food Pantries are Used for Distribution
A food pantry is a distribution point where hungry families can go to receive food. There are several different types of food pantries, including school food pantry programs that provide meals for hungry students and their families, as well as mobile food pantries, in which truckloads of food is given to people in pre-packaged boxes that they can take home and prepare for their families.
Many food pantries also take monetary donations that they can then use to purchase nutritious, staple items such as peanut butter, canned vegetables, or rice. These purchased products are then used to supplement the donated items received by the food bank. The federal government also has a commodity supplemental food program in which provides monthly food boxes to low-income elderly people, relying on partner food banks to supply the contents of these boxes.
There are Also Pet Food Pantries
Because pets are often the only emotional support that low-income seniors and homeless people have, and the reality that many animals end up abandoned to shelters because their owners are unable to afford to feed them, there are a number of pet food pantries available for those who need assistance with feeding their pet. Meals on Wheels provides not only food for homebound elderly individuals, but the program also provides food for the animal companions of the populace they serve. Additionally, local humane societies also commonly offer a list of local pet food pantries that can assist individuals in their area. For additional options when searching for assistance with feeding a pet in their state, individuals can refer to this list offered by Free Financial Help.
Finding a Local Food Pantry
Those looking for food assistance can ask local churches and nonprofit assistance organizations for information about local programs. Additionally, Care and Share offers a search tool that individuals can use to find information about the food pantries in their area, including the following types of pantries:
Traditional pantries, which often offer a traditional shopping experience, as well as walk-up or drive-through options for those looking for consistent access to food assistance, as well as those who need access to food as well as other types of assistance programs.
Mobile food pantries, which operate as a sort of grocery store on wheels, providing families with the ability to walk up or drive through in order to receive a food box. These services are often available where there is no food pantry nearby, or where residents need extra assistance.
In addition to the commodity supplemental food program, there is also assistance available to needy families through the Supplemental Nutrition Assistance Program (SNAP), which was formerly known as food stamps.
Copyright 2022, DailyDig.com