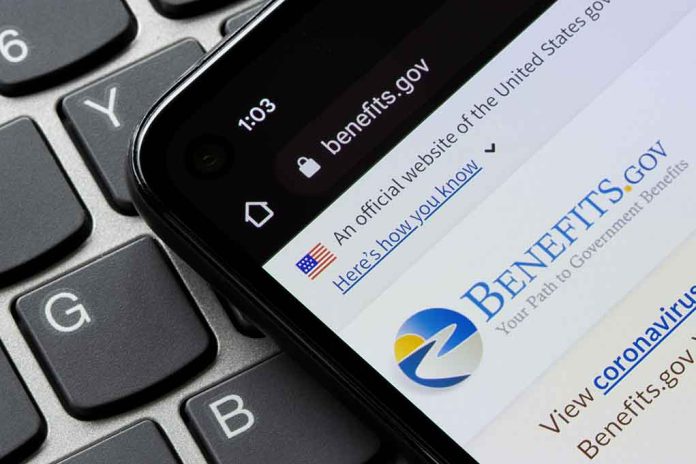 Do You Qualify For Government Assistance? Here's The Easiest Way To Find Out
(DailyDig.com) – Sometimes life takes a turn, and families find themselves in a financial bind. If you or someone you know is struggling financially, whether from job loss, major illness, or otherwise, there is help available. It is important to understand the vast array of resources that are available, which vary by circumstance, so that families can find financial relief.
Benefits.gov
The United States government offers a variety of programs, tax credits, loans and other forms of financial relief for individuals and families. The most comprehensive place to locate information about the various benefits available is through Benefits.gov. Benefits.gov is the official U.S. government website for benefits, and is a centralized resource for over 1,000 government programs. They collaborate with Federal and State agencies to provide users with easily accessible information about government benefits, eligibility requirements, and application information.
Benefit Finder
There are different ways that one can utilize the Benefits website. If the person seeking help knows the type of assistance they need or the name of a program, they can search by agency or category. Otherwise, the best place to start is the Benefits Finder.
The Benefits Finder is a detailed questionnaire that asks the user to input relevant information – basic personal, familial, and household information will be requested, such as date of birth, citizenship status, educational history, military/veteran status, marital status, household dependents, etc. Some questions are required and although some questions can be skipped, it is recommended to answer the questionnaire as thoroughly and completely as possible for the most accurate results. Specific identifying information (name, address, SSN, etc.) is not required.
Available Programs
Every household's situation is unique, and the type of assistance available will depend on a variety of factors. After the user completes the questionnaire, it will generate a list of potential programs for which they may qualify. The results are grouped by category, so the user can quickly jump to the results that are most pertinent to them. Here are just a few of the benefits that users may qualify for:
Supplemental Nutrition Assistance Program
The Supplemental Nutrition Assistance Program (SNAP) is classified in the "Food and Nutrition" category, because it provides nutrition benefits to families in financial need, so they can not only purchase healthy foods, but also work towards self-sufficiency. The program is administered by the USDA Food and Nutrition Service.
Child and Dependent Care Credit
The Child and Dependent Care Credit allows a reduction in taxes when it is claimed for childcare and/or dependent care expenses. It is available to those who paid for care of a qualifying individual so that they (and their spouse, if they are married) could work, or look for work.
Medicaid
As a joint federal and state level program, those in need will need to meet their state's eligibility requirements, but Medicaid provides free or lost-cost health coverage.
Hope for Homeowners
The Hope for Homeowners program is designed to provide assistance to those that are at risk of losing their home to default and foreclosure. If they are eligible, they can refinance their mortgage to make it more affordable, but it is voluntary, and the lender must also agree to participate.
Find the Benefits You Need
There is no shame in accepting benefits when one is in need. Most of these programs are designed to keep individuals and families safe and healthy, and allow them to work towards self-sufficiency. To find out if you or a loved one qualifies for benefits, use the questionnaire and answer the questions honestly. Each program will have contact information to reach out to the appropriate agency and find out more about eligibility requirements. Users can even use the Benefits.gov Help section to learn how to use the website to its fullest potential and start their journey towards financial relief.
Copyright 2022, DailyDig.com