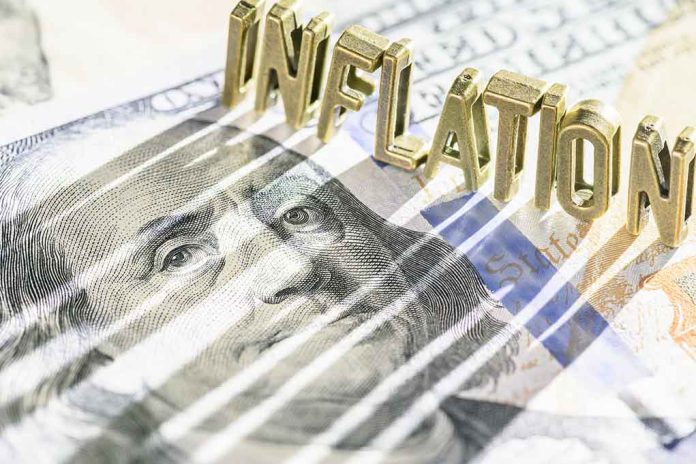 Inflation Relief Checks Are Coming – But Only If You Live In These States
(DailyDig.com) – Inflation is a massive problem for many Americans. While most wages remain stagnant  or grow very slowly, costs of products and services are still increasing rampantly due to inflation. Federal and state governments support various reasons for this, including supply chain shortages, fluctuations in the real estate markets, the effects of COVID-19 on the economy, and global instability.
Whatever the reason, inflation is having a massive impact on the bottom line in many households, with 67 percent of adults reaching into savings to cover inflation-related costs. (And that's just counting households that aren't paycheck-to-paycheck and/or have a savings account in the first place!) While the federal government has taken measures to stay rising gas prices, it just doesn't feel like enough for most hardworking American families, which is why some states have opted to provide additional tax relief to most families.
Some States Provide Inflation Relief: Is Yours One of Them?
If you're filing taxes in one or more of these 17 states this year, you could be eligible for a rebate intended to ease the hardship of inflation. With inflation up 8.5 percent, it's time to pay attention. Thanks to tax revenue surpluses and rebate-related legislation, residents of these states may find some relief.
California: Look for $1,050 direct deposited or sent in the form of a debit card if you lived in California for most of 2020 and filed state taxes.
Colorado: A $750 check could be on your way if you were 18 years of age or older on December 31, 2021.
Delaware: If you filed in either 2020, 2021, or both, you could get a relief rebate check in the amount of $300.
Florida: Those families participating in the Temporary Assistance for Needy Families Program (TANF) can get a $450 stimulus check this year.
Georgia: For those who filed in 2020 and 2021, a tax refund could receive at least $250 from the state.
Hawaii: Most taxpayers who filed in 2021 will receive at least $300, applying also to individual dependents. (A family of four could get $1,200).
Idaho: Did you file state taxes in both 2020 and 2021? If so, you could get $300 in rebates in addition to the $475 you likely already received!
Illinois: Illinois is providing multiple rebates, most significantly one for the amount of $300 going to homeowners earning less than $250,000 per year.
Indiana: For the 2020 tax year, you could get a $125 rebate. Most residents have already gotten this, with another round of $200+ checks going out by the end of the year.
Maine: Have you filed a 2021 tax return in Maine prior to the end of October 2022? If so, you could get an $850 relief check, which will be mailed to you.
Massachusetts: Massachusetts residents filing a 2021 tax return can look like rebates up to 13 percent of their income tax liability.
New Jersey: A 2020 tax return qualifies residents for the Middle Class Tax Rebate Program, which can net you $500 for every child under 6 years of age in your household.  Renters earning no more than $150,000 may also receive $450 rebate checks.
New Mexico: If you filed state taxes in New Mexico in 2021, you likely received an automatic $500 rebate in July. There is another credit coming, too — file a 2021 tax return to qualify. Deposits are automatic when possible.
New York: If you're a New York resident, you may have received a property tax rebate. Many residents got around $1,050, with the NYC average benefit being closer to $425. This is primarily for 2022 School Tax Relief (STAR) program participants, but there is an additional $150 rate that can apply to a broader range of residents.
Pennsylvania: In September, the Property Tax Rent/Rebate Program in Pennsylvania helped low-income tax earners get a tax rebate. This was for homeowners 65 years of age and up, as well as some other residents. The deadline was recently extended to December 31, 2022, so if you may be eligible for this $650+ rebate, apply today.
South Carolina: South Carolina residents who paid taxes in 2021 can get up to $700 in tax rebates. Funds come via direct deposit or check.
Virginia: If you had tax liability in 2021, you can get a $250 rebate for single family filers and $500 if filing jointly. You must file your 2021 tax returns by November 1. Rebates are automatic.
For each state, make sure you refer to the state-level department of taxation to confirm information about your specific rebate or relief and how and when you will receive it. Single filers typically receive a per-person amount, with joint tax filers receiving double.
Copyright 2022, DailyDig.com