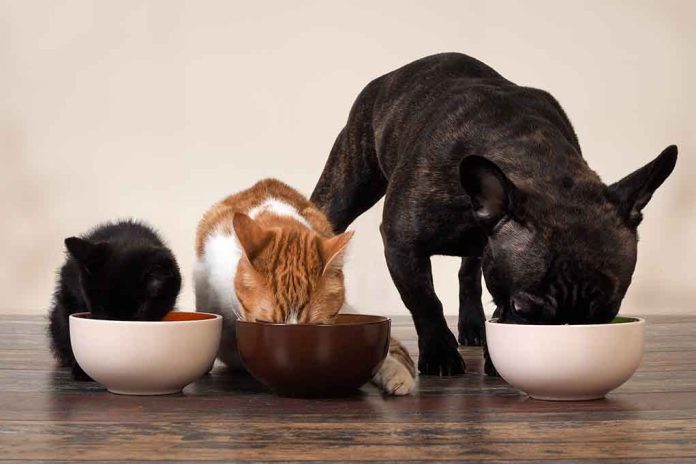 (DailyDig.com) – Financial troubles tend to affect everyone, including the pet. If you are in a tight spot financially, you may not be feeding your pet well because you cannot afford it. Fortunately, several organizations and non-profit groups have programs to help feed pets during difficult times. Most of them work at the local level, but the specifics for accessing the aid differ from one location to another.
Here is a quick overview of some common sources of either free or low-cost pet food.
1. Pet Shelters
Pet shelters rescue animals that have been abandoned or mistreated and care for them until they get new owners. Many of them struggle to maintain the animals they have. However, a few successful ones run feeding and vet care programs to prevent people from abandoning their pets. Others have food banks that they share with the needy. You can check the pet shelters in your area via the ASPCA website.
2. Pet Welfare Charities
Some of the pet-oriented NGOs are not shelters. However, they deal with pet welfare, including treatment and feeding. Many of them provide pets living in low-income families with food and medical attention. You may find several scattered across the United States. The conditions for food rations differ from one society to another. Check with your local one before applying for assistance.
3. Veterinary Clinics
There are veterinary clinics across the USA that participate in charitable programs that provide low-cost or free pet food to families in need. Several also participate in low-cost vaccinations, neutering, and disease management during a pandemic. Check with your local veterinary clinics or the Humane Society of the United States (HSUS).
4. Breed-Specific Organizations
Several organizations bring together pet owners who keep specific breeds. Many of them assist low-income families that keep the specific breeds. If you do not know your breed, you may ask your veterinarian to identify it for you.
Then, search for organizations that support the breed on social media groups, especially on Facebook. You may bump into other dog owners willing to help you during the difficult period. These groups are also great for learning a few things about taking care of your pet that are unique to that breed.
5. Pet Stores
Some pet stores may be willing to part with some food if you explain your circumstances. Others are willing to make a deal and sell the same at subsidized prices. This may be a little hard to pull off, but it is doable. Go to the pet stores you have been shopping with, as they know you and are easy to convince. A few others participate in charitable work and may welcome applications from low-income families.
On the other hand, some manufacturers offer free food samples to new customers. While this may not be enough to keep your pet going for a long time, it can help when you need something to give your dog.
6. Religious Organizations
Some religious organizations, such as mosques, synagogues, and churches, offer food and clothing assistance to needy families. This can sometimes include pets like cats and dogs. You are likely to get support from your religious organization. However, a few are willing to help anyone with a need, even if they are of a different religious affiliation.
7. Food Pantries
Food pantries are food repositories where NGOs, corporate organizations, and individuals donate pet food or money for the same cause. Many states around the USA have these food banks where anyone facing financial strain can get assistance to feed their pets. You can locate your nearest food pantry by a simple online search (including your county or state) or by searching such platforms as Alley Cat and Animal Food Bank.
Reach out to organizations and friends willing to help feed your pet when you are in financial hardship. Do not give up on your pet just yet. Check if any options listed above are available in your locality and the terms for accessing pet food.
Copyright 2022, DailyDig.com