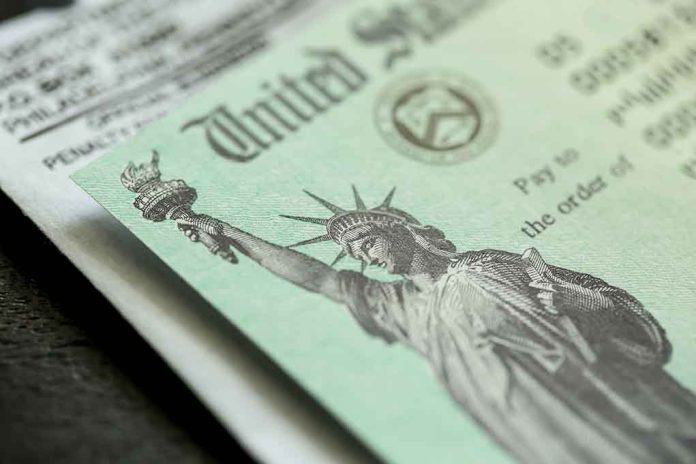 Another Stimulus Check In 2022? It May Be Possible
Update: While the April deadline for filing tax returns has passed, those who filed an extension for their 2021 tax returns still have until October 17th to claim the credits mentioned in this article.
(DailyDig) – As the everyday struggle continues for Americans, and we are forced to stand by and watch inflation skyrocket, many people are wondering if there will be another round of stimulus checks (also called economic impact payments). Unfortunately, at this point, it doesn't seem like more financial aid will be coming from the federal government any time soon.
The good news is there are still a few little rays of sunshine in between our nation's financial clouds.
You Can Still Get Your Unclaimed Stimulus
For those that haven't had the opportunity to claim their last stimulus check, there's still hope for a bit of a financial cushion. Technically, the IRS was done sending out stimulus payments as of December 31. However, if you do have an unclaimed stimulus check, you can actually claim it on your 2021 tax return. Yup, that's right.
It's called the Recovery Rebate Credit. But in order to get it (if you're eligible), you'll need to file a 2021 tax return, even if you aren't usually required to file. If you did receive any stimulus money in 2021, you will have to verify how much, along with the amount you believe you actually should have received.
It can be kind of complicated, so to help people figure it all out, the IRS has started mailing out a notice (which is called Letter 6475) to Americans who received economic impact payments in 2021.
The letter is a record of how much stimulus money has been sent, and it will also include a notice for any additional "plus-up" payments that you may be due. For example, if you welcomed a new baby into your family last year, you will now be eligible to claim their stimulus check also (up to $1,400).
Expanded Child Tax Credit
The Child Tax Credit has been temporarily expanded from $2,000 per child to $3,600 for children up to 6 years old, and $3,000 for children between the ages of 6 and 17. The IRS started sending out monthly payments in July of 2021 and continued through December 2021. While some parents are still waiting for their monthly Child Tax Credit payments (or opted out of them), other families have received all of them. But even if you've already received all of your monthly payments, that's not the full amount — only half.
To claim the rest, you'll have to file your 2021 tax return in order to get the other half. Again, you'll be sent a notice from the IRS (Letter 6419). The letter serves as a record of how much money you have already received (if any), and how many dependents were counted to calculate your payments. You will need to have this letter when you file your taxes, or you could risk delaying your possible refund.
Government Resources
For Americans who may be in serious need of immediate help, there are federal, state, and county programs available to help with things like food, housing, utilities, and more.
SNAP – The Supplemental Food Assistance Program is a federally-managed program that provides food-purchasing assistance to low-income individuals and families. You will need to apply online, but it usually doesn't take longer than 30 days for your application to be reviewed.
LIHEAP – Also known as the Low Income Home Energy Assistance Program (yeah, it's a bit of a mouthful to say). LIHEAP helps eligible low-income households with bill payment assistance.
Making Home Affordable – This federal program offers help with obtaining mortgage assistance.
These are just a few of the programs available, but there are tons of other places that can help, like food pantries and churches. And most of the time, all it takes to find help is filling out a simple application.
Copyright 2022, DailyDig.com