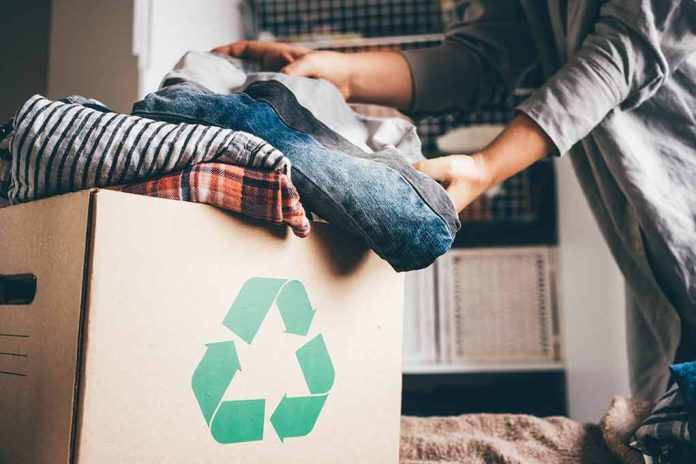 (DailyDig.com) – Clothing, of course, qualifies as a necessity. Everyone needs clothing for warmth and comfort in their daily lives. Additionally, we need  professional clothing  for work and families need clothing for their children from infancy through school.
The cost of clothing varies greatly, from thrift store prices to over-the-top designer offerings. But for low-income individuals and families, purchasing clothing may represent a financial burden that may take away from other necessities such as shelter, utilities, and food. Fortunately, three basic categories exist in which low-income people may receive free or very low-cost clothing.
Ways to Receive Free Clothing
It's important to note that when seeking sources for free clothing, people expect to receive clean clothing in good condition. It may work best to explore one or more resources to receive different types of clothing for multiple family members.
Three primary forms of programs may help individuals with their clothing needs.
National Programs
Several agencies and organizations run well-organized programs to help people with necessities, and clothing represents one of the most basic needs.
Check out these national-based organizations:
Army Emergency Relief- Military families may receive relief from AER for all necessities, including housing costs, vehicles, utilities, furniture, and clothing.
Salvation Army- The Salvation Army operates thrift stores throughout the United States. The prices at these stores already reflect deep discounts, but you may also receive a free clothing voucher in many areas if you qualify as low-income. Check with your local Salvation Army to see if they offer the voucher program.
Society of Saint Vincent de Paul– This organization provides many chapters throughout the United States. The format resembles the Salvation Army's, but they take pride in their one-on-one approach. They also operate with the thrift store model and often provide free clothing vouchers.
Vietnam Vets- Funded by individual donations, memberships, and fundraising events, the Vietnam Veteran organization provides clothing and other necessities to veterans and their families.
Municipal Programs
Throughout the United States, you'll find programs at the state, county, cities, and other municipalities to receive free clothing. A simple Google search will most likely reveal several options for free clothing and other services in your state or community. When researching these programs online, watch for scams and report any fraudulent organizations to your attorney general.
Some terrific examples of local programs that provide free clothing and other services include Harriet's Closet for Male-Identified Individuals and Harriet's Closet for Female-Identified Individuals in Hennepin County of Minnesota.
In Menasha, Wisconsin, the Community Closet provides free clothing to people in need. This organization works with many other organizations to collect donations and distribute them to low-income individuals.
Miscellaneous Ideas for Free Clothing
In addition to established national, state, and municipal programs, several other options exist to find free or very low-cost clothing. Consider the options below:
Facebook Marketplace represents a feature on Facebook that offers a community marketplace according to zip code. You only need an active Facebook account to search for all kinds of items, including clothing. Sometimes, you'll find free items listed.
Nextdoor keeps growing in popularity across the country. It focuses on neighborhoods or relatively small geographical areas. It operates on the mission to act locally. It provides localized news and features a for sale and giveaway section.
Craigslist also offers free items; you may filter it to nearby zip codes.
Places of Worship often run clothes drives. Check with those places in your community for details.
Company Clothing Drives take place, especially around the holidays. Check with local employers to see where they distribute the clothing from the drives.
Family and Friends also represent an excellent resource for free clothing. Keep in mind those with children outgrowing clothing or adults whose clothing needs may change with career moves etc. Most people would rather help a family member out than keep unneeded clothing in storage.
You Can Help
If you possess unwanted clothing, consider donating it to one of the organizations mentioned in this article. Garage sales and consignments represent a headache, and many organizations provide a receipt for a tax deduction.
Copyright 2023, DailyDig.com