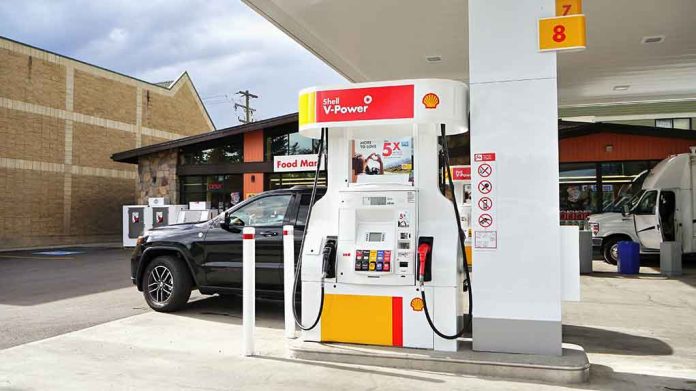 Is There Any End In Sight To Skyrocketing Gas Prices?
(DailyDig.co) – Gas prices are soaring across the country, surprising the records of the 2008 recession. According to reports by the AAA, the national average price per gallon of gas stands at $5.016, with some stations charging as high as $6.
The rising cost of gas has seen many Americans feel the financial pinch of using gas daily. It has also contributed to the significant hike in commodity prices due to increased transportation costs of goods.
Such unprecedented times have forced lawmakers back to the drawing board in search of ways to provide relief for those struggling to keep up with the skyrocketing gas prices. Congress is currently debating three proposals, including stimulus packages, to help mitigate the issue.
What programs are currently being proposed?
Research by CBS shows the cost of gas per household will increase to $2000 a year. Americans can also expect an impact on the cost of hiring practices, airline tickets, and other consumer spending habits.
With gas prices at their highest ever, many people are wearing their hearts on their sleeves, hoping the government will listen, and it has. While there's nothing concrete yet, legislators are currently looking at these three proposals that may help the public get through the surge in gas prices:
Gas Rebate Act
This bill, proposed by the representatives of Illinois, California, and Connecticut, suggests that families could receive up to a $300 monthly energy rebate for the rest of 2022, provided the gas average cost is above $4, through the following criteria:
$100 for single filers making up to $75,000
$100 for joint filers that make $150,000
$100 for up to 2 dependents
If the filers in both scenarios have two kids, they will receive the total of $300 proposed by the bill.
Big Oil Windfall Profits Tax Act
The second act presented by Rhode Island and California representatives proposes that Americans receive up to $360 a year. Funds for this project would come from the tax levied on big gas and oil companies nationwide.
For each barrel, a tax equivalent to the 50% difference between the current price of a barrel of oil and the pre-pandemic (2015-2019) average price of an oil barrel is levied on companies making or importing at least 300,000 barrels daily.
With the price per barrel sitting at $120, the government could raise about $45 million, from which $240 would go to a single and $360 to joint filers $360 each year.
Stop Gas Price Gouging Tax and Rebate Act
The third bill proposes that large gas and oil companies pay a one-time 50% tax on any adjusted taxable income (ATI) in 2022 above 110% of their average ATI during the pre-pandemic years of 2015 to 2019.
Although the exact amount consumers would receive is still under evaluation, it will mostly depend on the revenue raised. However, only single filers making up to $75,000 and joint filers earning up to $150,000 a year can qualify for the payments.
Are there other stimulus programs for surging Gas Prices?
Apart from national proposals, lawmakers from several states have enacted different legislation to offer residents gas relief. The states of Maryland, New York, Florida, Georgia, and Connecticut have all approved gas tax holidays that would see them temporarily halt tax collection from gas stations to help reduce gas prices for a while.
California, through its governor, has also proposed an $11 billion relief program for its residents. Under the program, licensed vehicle owners can qualify for $400 a month for up to two registered vehicles, while those using public transit can do so for free for three months.
President Joe Biden has taken a series of action steps to help lower gas prices for Americans, including:
Announcing the release of an unprecedented 1 million barrels a day from our Strategic Petroleum Reserve
Rallying international partners to combine efforts and release a combined 240 million barrels of oil on the market
Expanding access to biofuels like E15 to increase gas supply and lower prices at thousands of gas stations across the country
Engaging with oil and refinery companies to increase refinery capacity and output
These aren't the only gas relief programs or legislative policies available. Keep up with your state's news to know whether it has stimulus packages for its residents.
Is it possible Americans may receive a stimulus to help with rising gas costs?
Lawmakers around the country understand the need for more stimulus packages for the rising gas prices, but nothing has been set in stone on forthcoming relief. Many legislators are cautious about spending more resources on stimulus packages. As a result, it's proving more challenging to gain bipartisan support to pass any gas relief bills, either nationally or locally.
Still, with gas prices expected to increase even further, the public outcry might force legislators to pass additional payments for those who can't afford gas. Watch out for local and national news for updates on more gas stimulus deals.
When will gas prices come down?
While taxes, refining, and distribution costs influence gas prices, the surge in oil prices is the single most significant contributor to the soaring cost of gas. Even before the pandemic, most energy producers had cut back on investment and less profitable projects due to low prices and pressure from shareholders demanding greater returns.
Russia's invasion of Ukraine was the last nail on the coffin as it sent an already fragile energy market to its knees. Since Russia is the largest oil exporter in the world, and the entire European Union market depends on it for natural gas, the future cost of gas prices may well depend on when the war stabilizes.
Gas is an essential commodity in many American households, and with the total spending poised to reach $2000 a year, most may not be able to afford it. As such, policymakers at the federal level are trying to mitigate the rise in gas prices through three proposals while the states have their stimulus packages.
The President is also working round the clock to ensure gas prices stabilize and relief is available in all states. Meanwhile, you can minimize your gas expenses by; taking advantage of Gas Rewards Programs, using fuel-efficient vehicles, and servicing your vehicle regularly.
Copyright 2022, DailyDig.com