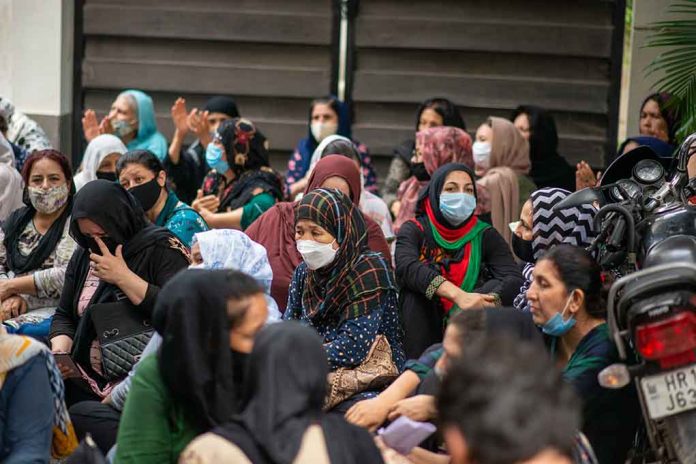 (DailyDig.com) – Thousands of refugees await resettlement in the US after successfully departing Afghanistan. While their evacuation may have been a success, the botched withdrawal of troops from the region was not. It subsequently resulted in Taliban leaders stepping into power and taking over Kabul, which eventually allowed them to begin ruling over all of Afghanistan. Now, the refugees who did make it to America say they're experiencing yet another form of pain — one they say US leaders can easily fix.
The "Lucky" Ones
Esrar Ahmad Saber, a former interpreter for the US Army, is one of the thousands of Afghan refugees at the central New Jersey Joint Base McGuire-Dix-Lakehurst. He first moved on August 26, and has remained there ever since.
Saber considers himself lucky. Currently, 11,000 Afghan refugees live at the base in specially-designed "villages" intended to accommodate the temporary influx. While they are indeed fortunate enough to escape Afghanistan and Taliban rule, these refugees are now worrying about the families that they left behind.
The US Operation Allies Welcome recently passed the 35,000 refugee milestone; 37,000 Afghans now call military bases across the country home. The New Jersey installation contains the highest saturation of refugees, housing 11,000, but previously served up to 14,500. Fort McCoy in Wisconsin comes in second with 7,500 refugees.
Operation Allies Welcome
Operation Allies Welcome undoubtedly saved thousands of lives. However, both administrators and refugees now face significant road tape in the effort to resettle refugees in the US permanently. As 29-year-old Saber describes, many feel excited to be on American soil but struggle with the prolonged relocation process.
People involved with Operation Allies Welcome cited former President Trump's refugee program cutbacks, a lack of affordable housing, and the sheer volume of refugees as obstacles to resettlement. Requests from the refugees themselves, who often seek to move to regions with well-established Afghan communities, also strain the system, causing delays.
The Department of Homeland Security (DHS), alongside the resettlement organizations, hopes to have all refugees out of US bases and into the community by February 15. Church World Service Vice President Erol Kekic believes the deadline is likely obtainable but remains skeptical about getting everyone off base by the day after Valentine's Day.
The Refugee Lifestyle
Those at Joint Base McGuire-Dix-Lakehurst live in tent-like prefabricated structures that form three distinct "villages." While it isn't exactly like living at the Ritz, residents do have access to much of what they need to survive and even somewhat thrive.
Many refugees enjoy playing soccer and basketball on the various fields and courts present on each base. Warehouses filled with clothes and other items provide easy access to supplies. Classrooms staffed with teachers ensure children and teens, which make up nearly half of the refugee population in New Jersey, have easy access to education. Adults can also attend language lessons and job training to help with integration. The base also provides a medical clinic to address healthcare concerns.
While residents are likely relieved to be out of Taliban reach, one can't help but wonder what they're dealing with as they wait to move into new homes and communities. Some refugees, such as Saber, hope to join the US Army. Others need time to adjust, decompress, and figure out what comes next.
While President Joe Biden seems to be doing an excellent job of taking them in and giving them temporary homes, some believe the administration could be doing more. Perhaps he could look for ways to reduce the red tape.
Copyright 2021, DailyDig.com