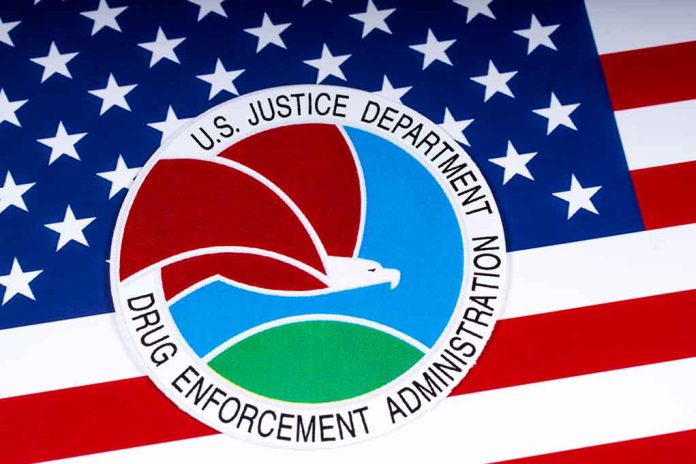 DEA Agents Make The Discovery Of a Lifetime In SoCal
(DailyDig.com) – America has a drug problem. While families in the US suffer, Mexican cartels seem to be getting rich off of their pain by smuggling illegal substances into the country for distribution. Recently, the Drug Enforcement Agency (DEA) made a record-setting drug bust, confiscating loads of methamphetamines that could have made their way into the hands of United States citizens.
Record-Setting Bust
The US Attorney's Office for the Southern District of California explained in a news release that law enforcement surveilled a 20-foot box truck in National City, California, on July 7 after it drove through the Otay Mesa Commercial Port of Entry. As they watched the vehicle, authorities noticed four men unloading boxes and placing them into a van. At that moment, law enforcement decided to approach the suspects and take them into custody.
After arresting Ethgar Velazquez, Rafael Alzua, and brothers Mario and Galdrino Contreras, authorities discovered more than 5,000 pounds of meth. The attorney's office claimed the discovery was one of the largest finds ever confiscated in the area. The report mentioned the suspects had more than 148 bundles of the illegal drug.
According to Assistant US Attorney Blanca Quintero, all of the men were from Tijuana. Each of them faces somewhere between 10 years and life in prison for conspiracy to distribute methamphetamines. Sheriff Anthony C. Ray of San Diego County noted he's thankful for the "hard work, vigilance" and commitment of the detectives who made the bust. He also praised the collaborative efforts of local, state, and federal authorities, who shared important information with each other in an effort to keep drugs off the streets.
The DEA Agent Shelly S. Howe asserted the bust represents a "win against drug cartels," adding their partnership with other agencies has helped disrupt illegal substance trafficking. US Attorney Randy Grossman also expressed gratitude for the cooperative effort calling the seizure "a significant accomplishment," adding that authorities successfully stopped the cartel from distributing the massive amount of drugs from hitting the streets.
Innocent Until Proven Guilty
According to the San Diego-Union Tribune, all of them originally denied knowing the exact contents of the containers. Velazquez claimed the two Contreras brothers just asked him to drive the vehicle, admitting he walked across the border earlier that day. Alzua told investigators that someone recruited him to help move some boxes. The two brothers noted they believed they were smuggling marijuana and they would receive compensation for doing so.
There's no clear indication if any of the defendants have an attorney or will get one. If the court convicts them, each suspect could have to pay an additional $10 million fine on top of their possible prison sentence.
Copyright 2022, DailyDig.com