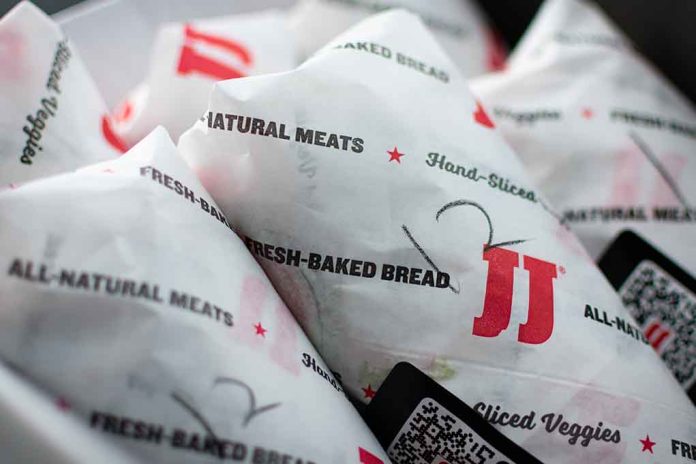 'Hangry' Woman Viciously Attacks Sandwich Shop Worker That Messed Up Her Order
(DailyDig.com) – The world has become a scary place, and it appears people have become more violent than ever. Some are trying literally to kill others over fast-food orders. The most recent incident occurred in a Jimmy John's after a woman stabbed a worker who accidentally messed up her order.
Jimmy John's Injustice
Emergency personnel in High Point, North Carolina rushed a 16-year-old to the hospital, where they said she sustained serious injuries but is in stable condition. The teen girl worked at a nearby Jimmy John's, where she made a mistake on a woman's order. The woman, 45-year-old Demetris Holeman, was livid about the blunder. So much so, she began throwing objects at the teen before finally stabbing her with what witnesses say was an edged weapon.
Holeman had a history of temper tantrums and fits at the store, leading to employees refusing her service on multiple occasions. Captain Patrick O'Toole of the High Point Police Department mentioned he doesn't understand how someone could come to attack anyone, let alone a teenage girl, over a fast-food order, especially to this degree. Authorities have charged Holeman with assault with a deadly weapon resulting in serious bodily injury and the destruction of property. Unfortunately, these kinds of cases happen more often than people think.
Machete Mishap
In Columbus, Ohio, a man threatened an employee at Kickin' Chicken with machetes. The dispute started as the suspect argued with the employee over a parking spot. The man eventually left the building, only to return armed. The victim said the man came in and pointed the bladed weapon at him. The employee attempted to grab one of the weapons, resulting in an injury to his left hand. Authorities have asked for help in identifying the assailant, claiming he drove off in a silver 4-door Acura.
But wait, there's more!
Don't Shoot the Messenger
Food delivery services are a lot like sending food through a message. Unfortunately for one Chinese food delivery man, his killer never got the memo to leave the messenger out of any conflict. Authorities responded to 911 calls, finding 45-year-old Zhiwen Yan on the street unconscious. Emergency personnel quickly rushed him to the hospital, but the gunshot wound to his chest was too much, and medical staff pronounced him dead at the hospital.
Witnesses claim they saw a white Lexus SUV peel out from the scene. Police are investigating a possible lead, a 50-year-old man who has a history of violence with the Great Wall, a Chinese restaurant in Queens, New York. According to employees, he has vandalized their vehicles as well as threatened them with a firearm. They indicated that once police became involved, he left them alone. Currently, he is the lead suspect in Yan's death.
What has the world come to?
Copyright 2022, DailyDig.com