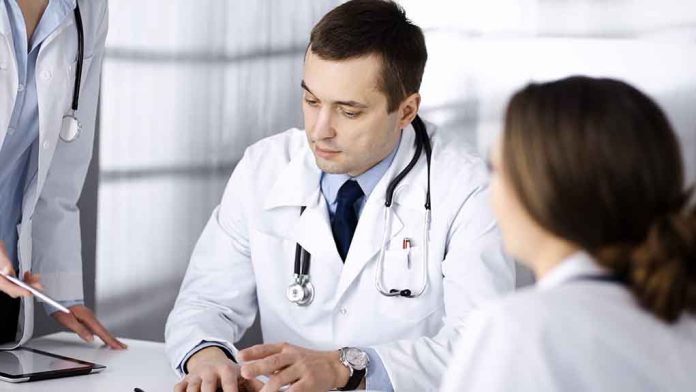 Medical Bill Catch You Off Guard? Talk It Down With These Tactics
(DailyDig.com) – The last thing you want to see after a major medical event is a bill you had no control over incurring. For many Americans, this is reality — an emergency surgery that included an anesthesiologist who wasn't in-network; ambulance transport by an out-of-network provider, and many other services relating to the emergency room and emergency services. The insurance companies, after all, don't seem to care that it was an emergency situation or that you weren't conscious: if you used an out-of-network provider, you must pay the fee… even if you weren't awake and aware to make the decision.
Many are tempted to do everything in their power to pay high medical bills once they get them — but don't do that without looking, and don't despair about the high cost, either. The No Surprises Act may ensure you pay little or nothing of that bill if you're insured.
What Is the No Surprises Act?
Effective as of January 2022, the No Surprises Act ensures insured Americans can't be billed out-of-network provider fees in emergency situations. Consumers like you were concerned, as anesthesia and other services commonly performed in an emergency were being billed at a much higher rate than in-network providers. In some cases, patients were taken to hospital network or medical facilities that were entirely out-of-network, resulting in a higher charge not just for each specialist seen, but for their entire medical event and hospital stay.
It's as though your insurance companies expect you or anyone who needs to call 911 in an emergency to check whether the hospital you are going to is covered, and to call the insurance company and check each doctor. Some insurance companies were also billing these high fees because services were not pre-authorized. In non-emergency situations, imaging such as an MRI or CT scan has time to go through an insurance company's approval process — that is not so during an emergency hospital stay. That's obviously not realistic.
Ground Transport (Local Ambulance Services)
Ground transport, typically ambulance services, are gray areas, but are still largely covered under the No Surprises Act. Instead of hospital systems (of which there are a finite number), insurance companies need to deal with thousands of private ambulance services throughout the country, all with wildly different billing structures and fee schedules. As you can imagine, this commonly results in the patient getting a large bill.
Once your insurance company pays what they deem as their fair share of the bill, you'll get billed for the balance. This is known as balance billing. Many patients have had to go through multiple levels of appeals processes to leverage the No Surprises Act in the case of ground transport balance billing, versus in-hospital services which have become more automatic when it comes to compliance. Work with your ambulance service provider — they want to get paid, and should help you with the language you need to provide to your insurance company to ensure you're not a victim of illegal balance billing.
How to Dispute a Bill Under the No Compliance Act
Insurance companies are in the business for profit: never forget that. Therefore, it's in their best interests to avoid compliance with the law until you call them on it. Your initial dispute should be directly to the insurance company, in writing. Cite the No Surprises Act. You may then have to go through one or two rounds of appeal (or review) with the insurance company, when they will either agree to cover a greater portion of your bill, or they will refuse entirely.
If they refuse entirely, it's time to take your case directly to your local Congressperson (try one who is generally in favor of healthcare systems and policies that benefit citizens rather than corporations). It's their job to advocate for you or connect you with a Legal Aid representative to pursue this unlawful billing further.
While the No Surprises Act has been in effect for some time, private insurance companies aren't always defaulting to compliance. Review every bill with scrutiny — get an advocate to help you if possible — and fight all charges. Additionally, share this post and let your friends and family know to check their medical bills for No Surprises Act compliance — you could save them thousands of dollars.
Copyright 2022, DailyDig.com