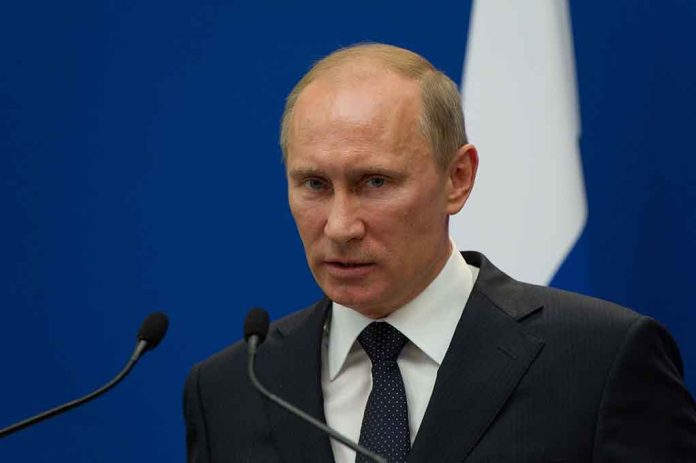 (DailyDig.com) – Despite Russia's reputation for being cold, the situation along the country's western border continues to heat up. The world — specifically, the European Union (EU), North Atlantic Treaty Organization (NATO) members, and the US — watches the conflict between Russia and Ukraine unfold with bated breath. US officials consider Ukraine an ally and often show support for the tiny country during troubling times, a relationship Vladimir Putin hopes to bring to an end.
Putin's Plea
Russian President Vladimir Putin rarely asks the US for favors. However, he and Moscow are now demanding that Washington immediately cease assisting the Ukrainian military in their effort to remain independent.
Putin's demands come just after US Secretary of State Antony Blinken visited the Ukrainian capital of Kyiv on January 19. Ukraine's officials told Blinken that Russia had nearly completed its build-up of forces along the border.
Russian Defense
Newsweek claims the Russian Embassy in DC said that if the US wanted to de-escalate the conflict in Ukraine, it would stop supplying weapons to its armed forces. It defended the movement of troops into Russia's closest neighbor, calling it a sovereign right. Officials further deny claims that Putin's military staged troops in nearby Belarus for the sole purpose of eventually invading Ukraine.
The Russian government is also calling on Ukraine's leaders to end the hysteria, claiming it could push the country to lash out. They say Russia isn't planning on attacking anyone.
Ukraine's Side
According to an exclusive report the Ukrainian Defense Ministry shared with CNN, 127,000 Russian troops are currently stationed along the border. The same data suggests Russia is actively transporting ammunition, security services, and field hospitals into the region, which may indicate they're preparing for an attack.
The Defense Ministry also claims Russia is attempting to weaken the EU and NATO while trying to prevent America from reasserting power over Eastern Europe.
Russia's threatening nature toward its smaller neighbor isn't new. In fact, the Defense Ministry outlines Putin's long and well-documented history of intimidation in a timeline on its website. Officials directly accuse Russian officials of attempting to destabilize the region.
A Diplomatic Effort
US Secretary of State Anthony Blinken will travel to Geneva, Switzerland, on January 21 to hold talks with Russian Foreign Minister Sergei Lavrov. The US and Russia came to an impasse at the end of their last meeting; this is just the latest in a string of attempts to soothe ruffled feathers and find a way forward.
Blinken hopes to avert or prevent Russia from invading Ukraine.
According to a New York Times article, recent negotiations failed to accomplish their intended goal. In fact, a senior Russian diplomat suggested the talks were going nowhere, which suggests the country may be close to entirely abandoning diplomacy.
Will the two countries reach a diplomatic solution? Or will this escalate into a war between Russia and Ukraine, prompting the US and other allies to get involved?
Copyright 2022, DailyDig.com