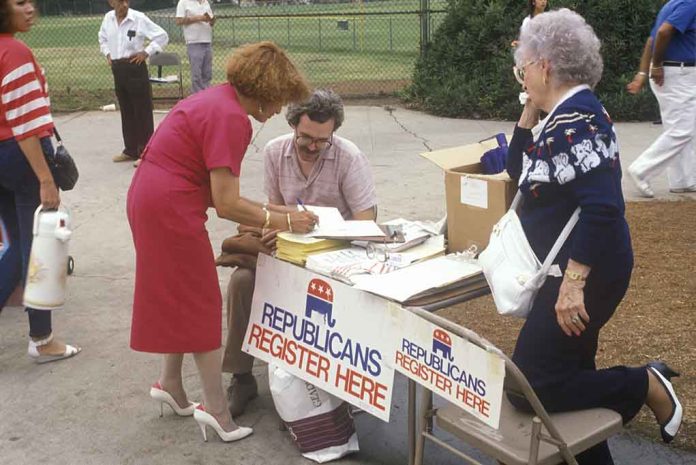 (DailyDig.com) – While the Left is trying to abolish voter registration, Republicans are launching drives to increase the number of registered voters. The battle has been tight, so leaders have had to think outside the box to gain people's attention. The Republican National Committee (RNC) believes gas stations may be the best place to set up shop.
Starting the Initiative
The RNC has announced its plan to run voter registration initiatives at gas stations across the country. The move comes as Americans are paying record-high prices for fuel and battling with inflation everywhere they go. The first event took place in Arizona on March 19; staff and volunteers registered people to vote between 1 and 3 p.m.
Republicans in North Carolina and New York also began registering voters at gas stations on Saturday. The RNC expects there to be even more of these drives in several battleground areas in states such as Wisconsin, Texas, Ohio, Michigan, Maine, Iowa, Florida, Colorado, and California.
Year of the Republicans?
Nicholas Langworthy, Chairman of New York's Republican State Committee, claimed inflation, record-high gas prices, and the surge in violent crime in cities across the country are driving even the most progressive Democrats toward the center, and possibly even into conservative territory. Langworthy believes these issues will be the main point of contention in this year's election cycle, asserting the midterms are shaping up to be a massive win for Republicans.
Langworthy expressed that the RNC's idea to use gas stations to serve as voter registration hubs was a good idea. He explained there wasn't any better time to speak with voters than after they've spent $100 to fill up their vehicles' tanks. It was certainly a creative and strategic choice.
The Arizona RNC communications director, Ben Peterson, echoed similar beliefs according to the Hill, affirming that just about every American is feeling the pain at the pump, making gas stations the perfect place to spark conversations and get people registered to vote.
Is Biden at Fault?
Many Americans put the sky-high prices at Biden's feet, blaming his policies for inflation and now record fuel prices. The president mentioned earlier in March that Americans were going to see these prices spike as the country placed sanctions on Russian oil and gas.
Biden also stated that fossil fuel companies were keeping prices high to boost their profits. But as many Republicans point out, fuel was already on the rise even before the Russian offensive against Ukraine.
Conservatives have insisted Biden could decrease gas prices. If only he would choose to ease regulations on domestic oil and gas companies and allow them to drill in the United States instead of outsourcing the supply from countries often unfriendly toward Americans.
Will this initiative prove fruitful for Republicans in the midterm election?
Copyright 2022, DailyDig.com