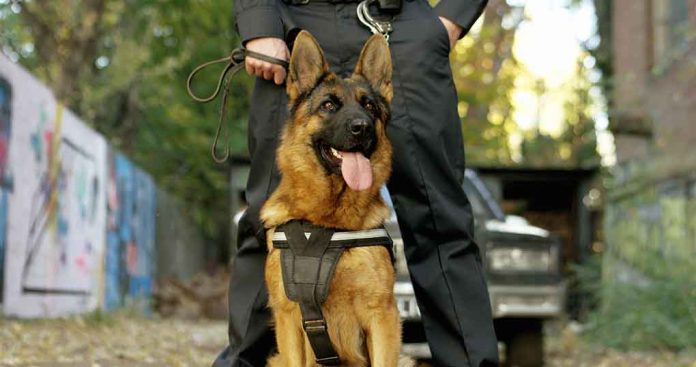 (DailyDig.com) – Law enforcement and similar organizations implement many tools for use in their services. Among these tools are K9 dogs. The dogs have become a staple in these establishments. A K9 working for the US Secret Service is set to become the first in American history to receive a new medal of recognition.
Meet Hurricane
Hurricane, a Belgian Malinois, will be the first dog in the US to receive the Distinguished Service Medal, a brand-new recognition. The Secret Service K9 has titanium capped teeth, which his handler, Marshall Mirarchi, says is thanks to a skilled dog dentist in Vienna, Virginia. The titanium fangs have given Hurricane an unmistakable reputation and his signature look. Hurricane is now retired, but his former handler-turned pet owner, Mirarchi, gives him all the care he needs and keeps him active.
Distinguished Service
Hurricane's recognition came after a man jumped the fence of the White House during the Obama administration, when the family was trying to enjoy a movie night. The would-be party crasher never even got the chance as Hurricane met him halfway in the White House lawn. Mirarchi stood close by but allowed his partner to carry out his duty, the job he was trained to do. The K9 and the culprit had an intense battle, which Hurricane ultimately won. Unfortunately, he didn't go without injury himself, forcing the dog into early retirement.
According to Mirarchi, everyone tries to say the dog was protecting the president and the First Family. In reality, the handler says Hurricane didn't know the president lived in the White House, but he didn't want anything to happen to his "dad." Mirarchi says it's pretty cool that Hurricane will be the first dog to receive a Distinguished Service Medal.
Not Alone
While Hurricane will be the first, he isn't a lone wolf as five other dogs will be recognized as well. The recognition comes after advocates and nonprofit groups like US War Dogs Association, Animals in War and Peace, and the Livingood Group lobbied congressional lawmakers to do so, arguing that these dogs have put their lives on the line fulfilling their duties. Three of the six dogs being honored will accept the award posthumously. This isn't a new occurrence as countries around the world have given this kind of recognition to working dogs, but the United States is new to the concept.
Hurricane's ex-handler, now owner, says the K9 will likely enjoy receiving his medal, expressing his excitement for his former partner and companion. Mirarchi admitted that getting belly scratches and playing tug-of-war is more the former Secret Service K9's speed.
Copyright 2022, DailyDig.com