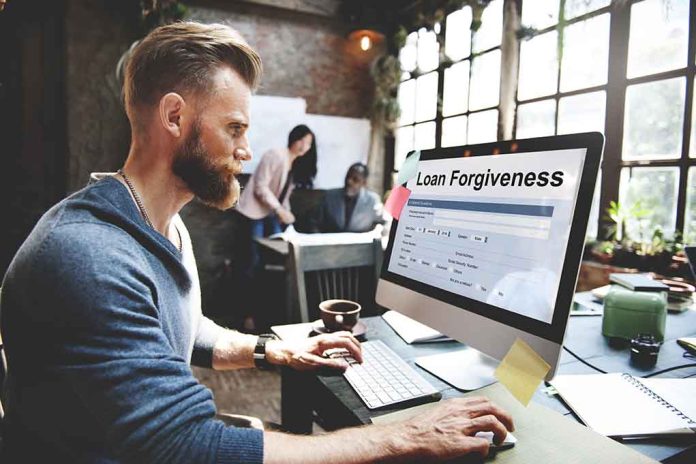 Act Fast! Free Yourself With Student Loan Forgiveness NOW
Note: As of October 22, 2022, a Federal Appeals court has blocked the student debt forgiveness plan. Americans are still encouraged to apply for debt relief so that their applications can be processed and transferred to loan servicers if/when the block is lifted.
(DailyDig.com) – One thing that Americans can pretty much agree on is that a college education is expensive. The costs of a four-year degree has tripled since 1980, for both public and private colleges. Analysis by the US Department of Education (DE) has found that the typical student graduates with about $25,000 in debt— $1.7 trillion overall.
One of President Biden's campaign promises was to forgive some student loan debt, and a few weeks ago, his administration rolled out their plan for eliminating millions in debt. The plan does not forgive all debt, and privately held loans are not eligible for any relief.
Here is a breakdown of how the loan forgiveness plans work, who's eligible, and how to avoid being scammed by unscrupulous bad actors. If you're wondering how loan forgiveness interests cyber criminals, it's simple—millions of people are going online to apply for debt relief, and scammers will present themselves as authorized agents of the Department of Education.
What does student loan forgiveness mean?
The loan forgiveness program is designed to help low to middle income borrowers, both students and parents. The plan is to cancel debt based on the borrower's income level and the type of loan they received.
Many borrowers have probably forgotten they even have student debt since payments have been paused since the beginning of the Covid pandemic, way back in March 2020. Payments are scheduled to resume in January 2023.
The exact contours of the plan are somewhat fluid as the DE continues to fine-tune the specifics. Numerous court challenges are gumming up the works a bit, but the government estimates that over 20 million borrowers will have their debt canceled by the end of 2022.
To be clear, not all debt will be forgiven, the limit is $20,000 for certain borrowers. However, large chunks of individual debt will be eliminated, meaning lower principal balances and reduced payments.
Loan forgiveness by the numbers
The DE will wipe out student debt based on these factors. Please keep in mind that this only applies to loans that are administered by Sallie Mae, the government's lending program. Any private debt is not covered under this plan. 
If you went to a private college, like Duke or Princeton, your federal loans are included in the relief plan.
Pell Grants set the baseline
If you were eligible for Pell grants and took out additional loans, the DE will forgive up to $20,000 in debt, based on the borrower's income. $125,000 is the income cap for single taxpayers, so if you're a past or current student who received loans through June of 2022, and has income less than this amount. you're eligible for $20,000 in relief.
If you didn't qualify for a Pell grant, but did borrow money for college, you qualify for up to $10,000 in loan forgiveness. The income cap remains the same.
The income cap for joint taxpayers is $250,000, which means that parents who took out direct Parent Plus loans can also see some debt relief.
If your household income is more than $250,000, you do not qualify for any loan forgiveness.
What if I Have Perkins or Federal Family Education Loans?
The original relief proposal allowed borrowers with Perkins or Federal Family Education Loans (FFEL) to consolidate that private debt into a federal Direct Loan, but in late September the DE announced that these borrowers were not eligible for any relief. The Department is still working towards some solution for these four million families.
Additional Components of the Plan
The plan doesn't stop with eliminating student debt. The DE is also proposing a new repayment structure that caps monthly payments at 5% of the borrower's discretionary income—about half what it is now. In real terms, this means about $1000 less annually in loan payments for most borrowers.
Public Service Loan Forgiveness (PSLF) is an existing program that allows debt credits and forgiveness for borrowers whose work meets certain criteria—a nonprofit. In government, or in the military. Most people with federal student loans are below the income threshold and would qualify for Biden's plan. Undergraduate loans, graduate loans and Parent Plus loans held by the Education Department are all eligible for cancellation.
How Do I Apply for Loan Forgiveness
Applying for loan relief is the easy part. Simply log into your studentaid.gov account and complete the form.  The website is up and running, and once you've completed the form, you'll get emails advising you of the status of your application. Given the milions of people applying for for loan relief, the DE estimates a six-week processing time.
You won't need to include your federal student ID number, but you will need to provide the following information:
Name
Social Security number
Date of birth
Contact information
You'll also need to confirm that your income falls below the cap. It's tempting to fudge that number if you're a little bit above the caps, but don't do it. If you submit false information to the DE, they'll find out when they match your stated income against your federal tax records.
Borrowers have until December 31, 2022 to apply for debt forgiveness, but the DE is encouraging applicants to get the forms in by mid-November so that your loan is either forgiven or reduced before payments start again in January.
Watch Out for Scammers
Any time there's money on the table, scammers find a way to take advantage. The government is reminding borrowers that you can apply online with just basic information, and the application is free. No one from the DE will call you to help you fill out the form. If someone does that, hang up and report the number (if it's even showing up on your phone).
The DE will not ask you to share any more information than they need to confirm your identity, and certainly not on the phone. Any legitimate representative will not ask for your FSA ID, bank account, or credit card information.
Debt relief is free and simple, President Biden says. You don't have to pay a dime—anyone who says you do is just looking to scam you.
Copyright 2022, DailyDig.com