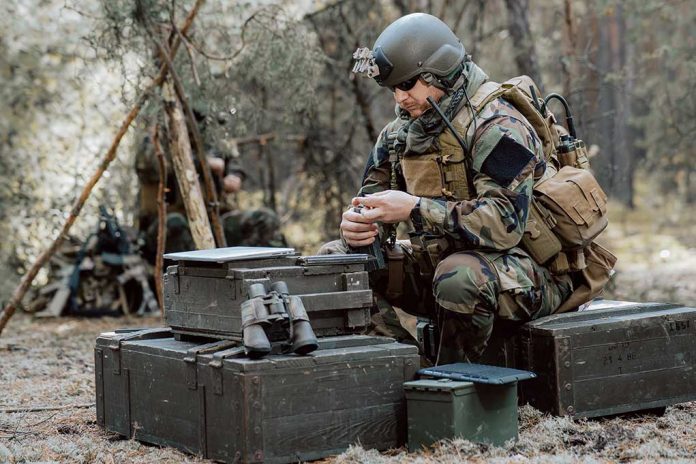 (DailyDig.com) – America's presence in Afghanistan is coming to an end. Yet, the hasty removal of our troops has caused serious problems for both local citizens and US allies throughout August. Many found themselves trapped in the zone as Taliban forces swiftly marched in and regained control over Kabul and other key cities, stepping into power for the first time in nearly 20 years. Now, there's a new reason to worry: they recently gained access to terrifyingly powerful US military intelligence devices.
Handheld Interagency Identity Detection Equipment (HIIDE)
HIIDE devices use fingerprints, iris scans, and biographic information databases to track terrorists and locate insurgents. In Afghanistan, the US Military also used them to keep tabs on citizens who aided the coalition's efforts to create ID cards.
Biometric HIIDE devices aren't exactly new. In fact, our military has a fairly well-documented history of using them as an aid in fighting the global war on terror. They played a key role in helping reveal the location of Osama bin Laden during a 2011 raid on his Pakistani hideout.
Investigative reporter Annie Jacobsen reveals why this latest acquisition is so terrifying in her book, "First Platoon: A Story of Modern War in the Age of Identity Dominance". She says the Pentagon set a goal of collecting biometric data on up to 80% of Afghanistan's population over recent years. This includes people who directly aided US forces.
What isn't yet clear is how much of the population's data has been compromised, or how far the Taliban might reach into the system for information. Some analysts also worry about the potential for additional attempts to hack into connected systems, too. But no matter how much or how little data remains, the fact that the terrorist cell can now access it is very bad news.
Former US Army officer Welton Chang says the US must do more to protect intelligence data whenever there are concerns about privacy, theft, and foreign militia access. He feels the military completely failed to even consider a contingency plan in the first place.
Signs of Hope
One unnamed Army Special Operations Veteran told the Intercept that, while the theft of HIIDE devices by Taliban forces is concerning, the terrorist cell likely isn't properly equipped to utilize the technology. But that doesn't mean they don't have options.
The veteran also shared concerns about Taliban forces asking Pakistan's Inter-Services Intelligence (ISI) to aid them in accessing information stored within HIIDE databases. The latter has access to far more advanced equipment. Furthermore, the two entities have a well-documented history of working together on issues such as these.
But the real concern is just how long a lack of knowledge can remain an effective deterrent in our current world. Eventually, Taliban forces will learn how to access and use complex devices, developing their own technology in the process. We can only hope Afghanistan will no longer be at the mercy of the Taliban when that day arrives.
Copyright 2021, DailyDig.com